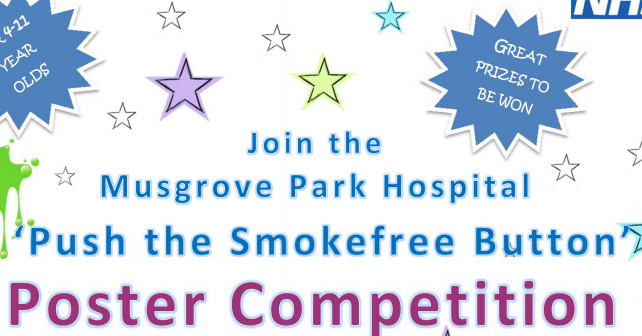 This summer, Taunton's Musgrove Park Hospital is looking to get kids across Somerset to help design posters to help raise awareness of the Smokefree campaign on-site at the hospital.
Earlier this year (May 2015), the hospital successfully launched push button activated, stop smoking voice systems at all major entrances in to the hospital, to reinforce the message to visitors that smoking is not permitted on the hospital's site.
To promote the recent launch, the hospital's Smokefree team is encouraging local school children to get involved this summer, by designing posters which will be displayed next to the buttons to encourage everyone to use them when they see someone smoking. The theme for the poster competition is: 'Push the SmokefreeButton'.
Dr Sam Barrell, Chief Executive, said:
"We are delighted to be launching our first ever Smokefree design competition this summer for local school children to get involved with.
"We are so grateful to the children and parents who helped us record the voice messages and I really look forward to seeing the designs. Good luck to all who enter."
If you have a child, or know someone between the ages of four and 11 with a particular flair for getting creative, then why not encourage them to submit their poster for a chance to win a great prize and have their artwork displayed within the hospital.
All you need to do is get creative and design a poster to encourage patients and visitors to use the Smokefreebuttons. Here are some simple guidelines you need to follow if you plan to take part:
Your poster must be on a flat sheet of A4 or A3 paper.
It can be in any format you like: paint, pencil, collage or even digital (online using your computer).
Send your completed poster to:
Smokefree Poster Competition, Communications Team, Lydeard House, Musgrove Park Hospital, Taunton, Somerset, TA1 5DA by Monday, 7 September 2015. (Don't forget to include your name, age, address and contact number on the back of your poster). Alternatively you can email your entry toSmokefree@tst.nhs.uk
For more information about the competition or to download an application form please visit the Musgrove Park Hospital website or email: Smokefree@tst.nhs.uk