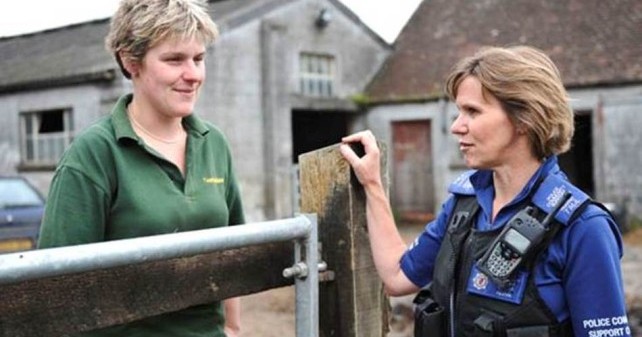 Figures released this week by NFU Mutual show that the number of rural claims are down in the South West.
According to a NFU Mutual survey, the national cost of rural crime totalled £37.8 million in 2014 – a 15% reduction on 2013 figures. The South West saw a reduction from £5.5 million to approximately £5 million and in Somerset specifically the estimated cost is £1,100,000 – again a reduction on 2013 figures.
Superintendent Geoff Wessell, Rural Crime Lead for Avon and Somerset Police said:
"We are delighted to see that the NFU figures show a reduction in rural claims this year. We have been working hard with our partners agencies, neighbouring Constabularies and the rural and farming communities to reduce crime and it is very encouraging to see positive results."
Over the last 18 months police have formed a new Rural Crime Police Team and most recently facilitated the creation of an independently chaired multi-agency Rural Crime Forum – both of which are proving to be very effective in identifying and tackling rural issues.
The Force have also invested in new and specific rural crime training both for front line officers and communications staff. This training has allowed staff a better understanding of the impact of rural crime and has meant it has been dealt with more effectively at the first point of contact. In conjunction with a relatively new rural crime tag, police are also now able to more accurately record this type of crime and respond accordingly.
Supt' Wessell added:
"Whilst there has been a reduction in rural claims, we won't be complacent. Thieves are still targeting particular items including tools, all-terrain vehicles (ATVs) such as quad-bikes, machinery and most recently livestock and we are running on-going and specialist rural crime operations to tackle these specific issues.
"We are also alive to the fact that rural crime is ever changing – there are seasonal crime trends, and like other industries and areas, there also new crimes that occur with the development of new technology such as the loss of solar panels.
"That said there are lots of positive new developments in crime prevention equipment including initiatives aimed at reducing livestock theft and tracking equipment for agricultural vehicles. These are having a positive impact and we are seeing success in both prevention and detection."
The Rural Crime Team is continuing to actively promote Avon and Somerset Police's various "watch schemes" and over the last 12 months have over doubled membership to Farm Watch Scheme. Thanks to the quick response of people within the scheme, who are swiftly identifying stolen property, police have been able to reunite many items with the rightful owners.
Supt' Wessell concluded:
"Whilst the NFU figures are very positive and really encouraging, I want to appeal to the public to keep taking simple but effective crime prevention measures to further reduce the risk of becoming a victim. There's loads of advice available on our website, or you can get in touch with your local officer or the Rural Crime Team via the website."
For further advice or information about Avon and Somerset Police's watch schemes, visit their Watch Schemes pages. You can also follow their Rural Crime Team on Twitter @ASPRuralCrime.