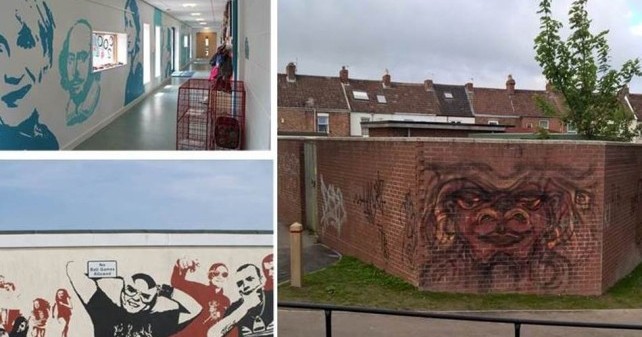 Avon and Somerset Police are inviting 8-18 year olds with artistic talent or just keen to try something new to join them in Blake Gardens in Bridgwater, between 17 – 21 August.
The local policing team, Bridgwater YMCA and local youth clubs, working in conjunction with Wessex Water, are planning to create a graffiti art mural on the Wessex Water Pumping Station and the Blake Garden's Underpass.
Historically graffiti, primarily "tagging" – which is an artist's spray painted signature or symbol, often gets bad press and can be classed as criminal damage. It's often ugly and unwanted and has given spray art or "street art" a bad name.
But it can be a colourful, vibrant and welcome addition to a dowdy underpass or ugly building as long as it is done with the right permissions. It is also becoming ever increasingly popular art form thanks to artists such as The Graffiti Kings and the West Country's own internally renowned artist – Banksy.
George Keast, Wessex Water spokesperson, said:
"We've had to remove quite a few graffiti tags from the pumping station in the past as it isn't pleasant for residents or people travelling through Bridgwater to look at.
"We're hopeful that this project will brighten up the local community and prevent any further tagging in the area by allowing young people to express their creativity."
PCSO Joanne Farrow from Bridgwater Police Station said:
"This is the latest event in a series of graffiti art projects we have been running, which are proving to be really popular. Whilst we have aimed it at young people, anyone is welcome to come and join us.
"We run events such as this as we feel it is important that young people know we are there to support them when they need us and will provide guidance to aid them in making positive life choices.
"In order to build their trust and confidence in us we are really keen to seize opportunities that allow us to engage with them in fun and informal environments, in addition to helping them to promote and develop their talents."
If you, or someone you know, are interested in putting your talent to good use then the first session will meet at The Band Stand in Blake Gardens at 10am on 17 August. The days will run from 10–4pm on the 17–21 August and the 24–26 August.
PCSO Farrow added:
"Come down and join us and help us create a masterpiece. We hope to see lots of people on the 17th."