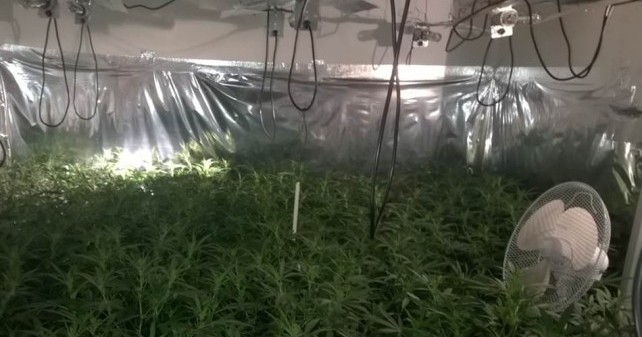 Avon and Somerset Police have seized over £800,000 of cannabis in Minehead after officers found a cannabis factory on Wednesday 19 August 2015.
Local police officers were alerted by the public to a strong smell of cannabis. After a short investigation they visited 43 Alcombe Road at approximately 16:25.
Approaching the property, they saw a man jump out of a 1st floor window at the rear of the house.
Officers detained the man and having identified suspected cannabis in the property they conducted a search. They found a significant amount of cannabis plants being grown, using hydroponic equipment, over three floors. Some had been harvested and packed in preparation for sale. They also discovered that the electricity meter had been bypassed, and Western Power were called to make the property safe.
Crime Scene Investigators were continuing to examine the property on Thursday 20 August. The plants, 806 in total, are thought to have a value of between £1000 – £3000 each depending on their size and quality so it is estimated their yield would be worth more than £800,000 on the street. They will be seized and cleared, along with the hydroponics equipment,  by Operation Viscount, Avon and Somerset's response to cannabis cultivation.
A 35 year old Vietnamese national was arrested on suspicion of production of cannabis and various immigration offences and is currently in custody at Bridgwater.
PC Charlie Fitzpatrick, from Minehead Police Station, said:
"This has been a significant seizure for this area. We have seen cannabis factories such as this in other areas of the force. The people who set-up and run these properties often use illegal immigrants as "gardeners" forcing them to live and work in awful conditions as modern slaves.
"I would like to thank the members of the public who informed us of the suspected criminal activity. I hope this demonstrates once again, that we do listen and we will take action."
If you have information about this or any other suspected criminal activity, please contact police either via www.avonandsomerset.police.uk or by calling 101.
Alternatively you can contact the independent charity Crimestoppers on 0800 555 111.
Always dial 999 if a crime is in progress or a person or property is at risk.