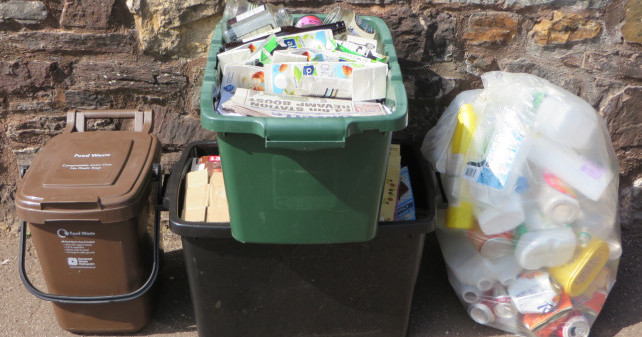 Latest analysis of the Recycle More waste trials in Somerset has shown enormous enthusiasm for adding new materials to kerbside collections, especially extra plastic containers.
Recycle More post-trial surveys found extremely high approval ratings for recycling extra items, even if the trial involved new or extra containers or reduced collection frequencies.
A series of Somerset Waste Partnership (SWP) trials across the county are part of research into what is practical, sustainable and cost effective for waste services over the next decade.
Among the challenging issues being explored are identifying markets for any new materials to be recycled, finding the millions in investment for a fleet of specialist vehicles, securing alternatives to landfill and even the design of containers.
The Recycle More trials helped thousands of families over several months to recycle plastic pots, tubs and trays – such as those for yoghurt, margarine or meat – Tetra Paks and other beverage cartons, small electrical items and household batteries.
To do this, they could choose from several extra containers, from clear plastic sacks to additional recycling boxes or blue reusable bags.
The trials also involved tests of recycling collections every two weeks and three-weekly rubbish collections, which between 82% and 86% of people preferred if they involved additional materials being recycled.
Earlier analysis showed that the Recycle More trials led recycling rates to jump by up to 29% while rubbish levels fell by as much as 27%.
Separate trials of stickers on rubbish bins to remind families not to throw away food saw a 20% rise in food waste recycling.
Combining both the sticker and the Recycle More collection changes led in some areas to food waste recycling rising by 45% or more.
Typical comments in post-trial surveys included: "I was amazed how little rubbish was left once all the additional materials were recycled." Another person added: "Very impressed with how recycling plastic reduces the bulk of the rubbish."
A SWP spokesperson said: "Residents are delivering a strong message about what they want, even if it means storing materials and less frequent collections, especially when extra recycling means much less left in their rubbish bins.
"Those views and the impact of the trials in raising recycling rates and cutting the rubbish sent to landfill are all going into the research and analysis essential to improve future waste services while cutting costs in Somerset from 2016/17.
"No decisions have yet been taken as these issues are complex, costly and must be considered in terms of services for the next decade that help families save money by recycling far more and wasting far less."
Even without any extra items or changes in services, Somerset residents could cut the weight of their rubbish bins by more than half, just by recycling existing materials fully.
Composition analysis shows that 50% of the average Somerset rubbish bin is food or other materials that can be recycling in existing kerbside containers, while another 10% of the bin could be taken to recycling sites.