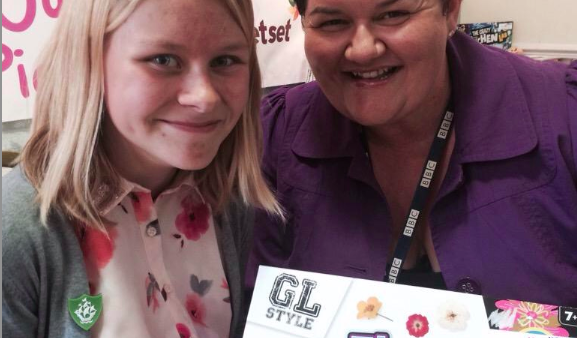 A group of youngsters in the Halcon area of Taunton joined a very exclusive club by becoming Blue Peter Badge winners.
They may not be as famous as some badge-holders – for example HM The Queen, David Beckham and Harry Potter creator JK Rowling – but they have more than earned the privilege.
That's down to becoming real ambassadors for their community through the hard work they have devoted to keeping Halcon clean and green through their regular litter-picks.
The young volunteers, aged three to 15, work together on Saturdays thanks to the Halcon One Team, the multi-agency group that is working to make a real difference to the community.
Litter was identified early on as a problem that could be tackled and Saturdays were chosen as the "day of action" as the young people were not in school and were pleased to have something positive to do.
The One Team has supported the youngsters every step of the way. Sharon Collard,  getset Early Help Officer, said:
"This is a great project, it brings us altogether as a One Team. Opening our Children's Centre up during weekends builds trust and confidence amongst our most vulnerable and allows us to focus on community engagement, healthy lifestyles, parenting support and environmental, look and feel of the area. I am so proud of the children, they are making change."
Cllr Jane Warmington, who holds Taunton Deane's community leadership portfolio, said:
"The litter pick also brings local families together, helps those taking part to make friends and the One Team get to spend some informal time with them.  The busy morning is rounded off with a healthy lunch for everyone at the Children's Centre and lots of thank yous! "
Cllr Frances Nicholson, Somerset County Council's Cabinet Member for Children and Families, said:
"The Halcon One Team is a shining example of what can be done to make a real difference to children, their families and their communities through partnership working.
"The Team works continuously to help families make positive changes to their lives, and the litter picking initiative is just one part of their work. The young volunteers who have been involved truly deserve this reward and I would like to thank them all for the positive example they are setting for other children and young people in Somerset."
The Blue Peter badges were presented by BBC Somerset Breakfast Show's Emma Britton last Friday (August 28) at a special ceremony held at Taunton Town Football Club.
Halcon One is a multi-agency initiative bringing together Police, the Borough Council, Somerset County Council and other partners to make a difference in one of the more disadvantaged areas of the county town.
Since its inception the Halcon One Team has made a huge difference with reported crime down, back to work initiatives finding people employment and volunteering at an all-time high.