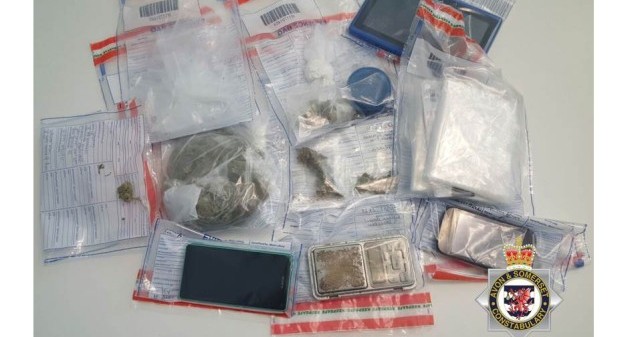 A man was arrested and cannabis seized after Avon and Somerset Police carried out a drugs warrant in Bridgwater today following information from the community.
Officers attended an address this morning and conducted a search warrant at a residential property in the Hamp area of the town.
Approximately £200 worth of cannabis was seized in addition to drugs paraphernalia.
A 23 year-old man was arrested for possession with intent to supply a class B drug.
PC Jenni Atkinson from the Bridgwater Policing Team said:
"The community got in touch with us regarding suspected drug dealing activity at the address. They were being affected by associated anti-social behaviour including visitors arriving and leaving the property at all hours of the day and night. We hope they are reassured by our actions today."
This is the second drugs warrant that PC Atkinson and her neighbourhood colleagues have conducted in the last 24 hours.
A woman was arrested and small quantities of Class A and B drugs seized yesterday during similar activities in another part of the town.
PC Atkinson added:
"Please contact us if you have information regarding any suspected drug dealing in your community, or indeed any other criminality. We do listen and we do take action.
"We work closely with our communities to tackle the issues that concern them the most and we won't tolerate drug dealing in Bridgwater."
If you have any information about crime in your area, contact police through their website www.avonandsomerset.police.uk or call them on 101. Alternatively you can call the independent charity Crimestoppers on 0800 555 111. They never ask your name or trace your call.