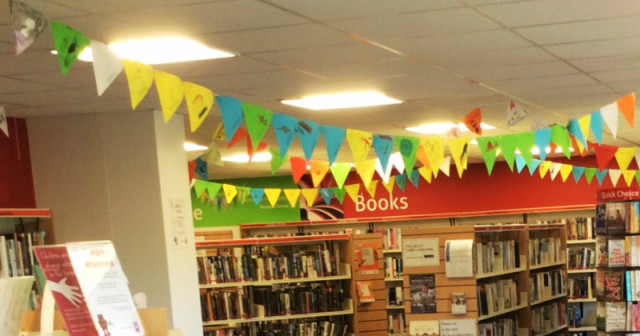 Over 36,000 books read, 5,500 medals presented, 90 volunteers and nearly 8,000 children all add up to another successful summer for The Reading Agency's Summer Reading Challenge in Somerset's libraries.
The theme of the year was 'Record Breakers' and library staff across Somerset's libraries worked hard to make sure that children were able to achieve new heights in their reading.
In Taunton Library over 1,100 children joined in – smashing the 1,000 barrier for the first time in Somerset.
An interlibrary competition was run to encourage children to create bunting for the library with their favourite books on it – with Children in Priorswood creating an impressive 475 feet (145 metres) of bunting!
One of the children who'd enjoyed the challenge said:
"I think that the reading challenge is fun because I love reading and if I have a goal I push myself towards it".
A parent said:
"My eldest is a more reluctant reader but the reward of stickers is a spur to finish the book. Summer holidays are more fun with regular visits to the library."
Cllr David Hall, Somerset County Council's Cabinet Member with responsibility for libraries said:
"We are delighted that Somerset libraries have been able to provide this fantastic opportunity for children to develop their literacy skills during the school summer holiday.
It is clear that with every year the Reading Challenge goes from strength to strength. With this year's national theme being 'Record Breakers', it's particularly great we've managed to break our own Somerset library record."