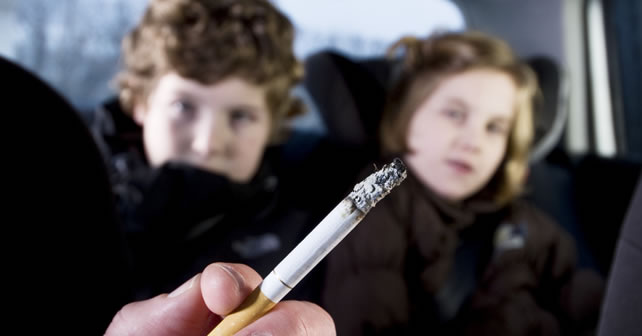 Smokers in the South West are being given one more reason to quit as new government laws come into force today (Oct 1st) which make it illegal for anyone to smoke in vehicles with children present.
The new law is designed to help protect children from the South West and the rest of the country from the dangers of secondhand smoke. Under the ban, both the driver and the smoker can be fined £50 if anyone smokes in a vehicle with a person who is under 18.
A recent survey revealed that ending smoking in cars with children is supported by 85% of adults from the South West (ASH YouGov Smokefree GB Survey 2015).
Public Health England with Newcastle University and Fresh Smoke Free North East, conducted a new experiment to highlight the dangers of exposure to secondhand smoke in vehicles. This tested the levels of dangerous chemicals (fine particles known as PM2.5) to which children can be exposed in the back seat of a car when a driver is smoking.
Despite what people might think, opening the car windows does not remove the harmful effects of secondhand smoke. The experiment showed that even with the window open, levels of dangerous chemicals were more than 100 times higher than recommended safety guidelines.
When the windows were closed and the fan on, levels of chemicals were more than 200 times higher than safety guidelines. Furthermore, the amount of the poisonous gas Carbon Monoxide (CO) was two to three times higher than on a busy road at rush hour.
Professor Dame Sally Davies, Chief Medical Officer said:
"This legislation is a landmark in protecting our children from secondhand smoke. Smoking just a single cigarette in a vehicle exposes children to high levels of air pollutants and cancer-causing chemicals like arsenic, formaldehyde and tar, and people often wrongly assume that opening a window, or letting in fresh air, will lessen the damage.
"I hope that all smokers, but particularly drivers and parents, will use the change in law as an opportunity to take the first steps towards quitting. With the laws coinciding with the start of Stoptober, there is no better time to quit and take advantage of the free support on offer."
Debbie Stark, Deputy Centre Director for Public Health England South West said:
"Over 80% of secondhand smoke is invisible and odourless. Many parents aren't aware of the high levels of dangerous chemicals that their children are subjected to if they smoke near them, especially in enclosed spaces. This new experiment unearths shocking data, reinforcing that smoking in vehicles with a child is never safe. Even with the window down you are still putting your child at risk of developing serious health conditions."
Smokers wishing to quit are encouraged to take part in Stoptober, the country's 28 day mass quit attempt developed by Public Health England, which also begins today. Those taking part will receive free and exclusive support every step of the way from top comedians Bill Bailey, Al Murray, Shappi Khorsandi and Rhod Gilbert. Stoptober is based on research that by stopping smoking for 28 days you are five times more likely to stop for good.
To sign up to the nation's biggest mass quit attempt and the thousands of people all quitting together, search Stoptober online or visit http://smokefree.nhs.uk/stoptober