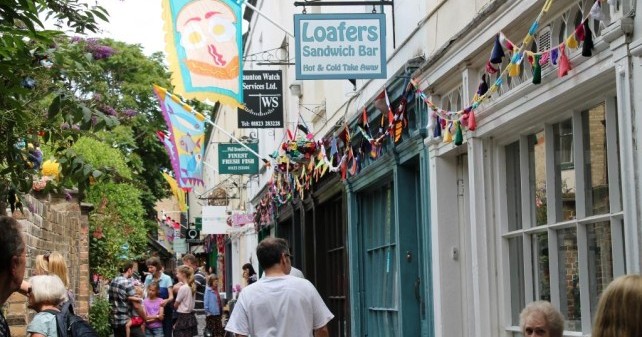 Bath Place in Taunton has been shortlisted in the final for The Great British High Street Awards 2015.
Its 'passion, warmth and community spirit' bowled over the team who said:
"We were bowled over by the quality and quantity of this year's applications and getting down to the final 21 was a real struggle."
And it's thanks to the incredible effort and energy from traders, supporters and partners that this specialist shopping street has reached the final of the competition.
The Great British High Street is run annually with the aim of promoting and celebrating the best of the nation's high streets – large and small – and recognising the efforts of everyone working to revive them.
Bath Place Traders Association decided to enter to showcase the rebirth of the historic street, home to independent businesses. It's now bursting with vitality and colour thanks to the united efforts of those in the street and their supporters.
Taunton Deane Borough Council has grant-aided some of the initiatives including the innovative flags project to create a series of vivid pennants from material supplied by the renowned Cameron Balloons company in Bristol.
The yarnbombing this summer saw huge crowds drawn to Bath Place to see amazing knitted creations. A local Brownie group created woollen dream catchers while Taunton Deane Mayor Marcia Hill knitted metres of yarn to add to the mix.  This was further complimented by the efforts of more than thirty customers, friends and business owners.
"The street was so full at times, that people had to queue to get past which was a first for us.  The street was full of laughter and smiles – we brought many a happy face to this town with this colourful venture.  We also created a spotting sheet to go with the yarnbombing, so that the children could run around crossing the items off their list," said Nancy Murgatroyd, spokesperson for Bath Place Traders Association.
"Many of the initiatives we have undertaken this year could easily be successfully applied in other locations in particular the yarnbombing or the competitions.  Many of our ideas have simply required a little effort in thinking time and working out how best to achieve the most out of each opportunity which arises.
"Bath Place businesses are upbeat and there is an enhanced sense of community. Publicity opportunities are flowing in our direction. We are no longer unknown as a street but recognised as a jewel in the crown. More and more customers are finding and enjoying this lovely part of Taunton
"Bath Place has a real community feel to it and those who work and live there care about it passionately.  This year has seen a massive change in attitude towards Bath Place and we believe this is due to all the effort which has been made. There are further plans for Christmas events and more for next year. Hopefully Bath Place will just be moving onto bigger and better things!"
The competition entry – in the local centre category – was endorsed by the Borough Council and Taunton MP Rebecca Pow, who said:
"Bath Place is somewhat of a magical jewel in Taunton's crown and is certainly a wonderfully vibrant but at the same time, peaceful and relaxing place to shop and escape from the hubbub and bustle of the more traditional High Street."
The Great British High Street Competition 2015 – sponsored by Boots, Costa, Post Office, Marks and Spencer and Tesco – is now in its second year and is one of a number of initiatives to help champion high streets as the cornerstones of the community.
Alongside the public's votes shortlisted towns will also be inspected by the Future High Streets Forum judging panel – made up of industry leaders from across retail, property and business.
Now Bath Place – and its traders – need supporters to vote for them to help win the national crown. Between now and mid November you can cast your vote for free via http://www.thegreatbritishhighstreet.co.uk or on Facebook.