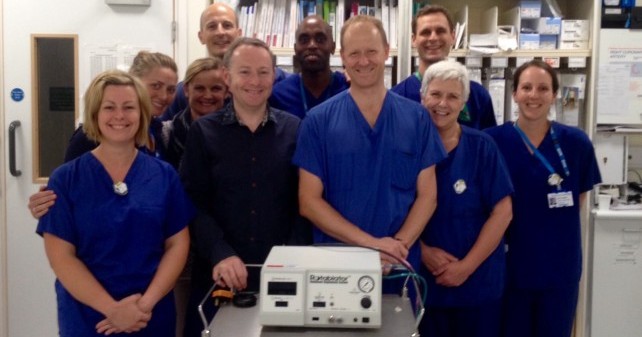 Heart patients within Somerset no longer have to travel to benefit from a complex surgical procedure called Rotablation, which uses a high speed drill to clear a severely blocked artery.
Sometimes patients who have narrowing of the arteries which supply blood directly to the heart (also called coronary arteries), have blockages that are very hard with bone like deposits that are too tough for stretching with simple balloon inflation and stent implantation.
The safest and most effective way of removing the blockage is by a specialised procedure called Rotablation. Rotablation uses compressed air to drive a very small diamond tipped drill, which is used inside the arteries to ablate (break) the blockage into tiny pieces.
Dr Mike Seddon, Consultant Cardiologist at Musgrove Park Hospital, said:
"This procedure used to only be available for our patients via referral to the Bristol Heart Institute, which incurred extra time and travel for our patients.
"Coronary heart disease is common in our local population. Most narrowed or blocked arteries can be treated by conventional percutaneous coronary intervention (PCI), using a balloon to squeeze open the narrowing followed by placing a metal scaffold (stent) across it to keep the artery wide open".
"While conventional PCI is suitable for most patients, there has remained a subset of patients, with hardened narrowings that won't yield with balloons, whose treatment could not be delivered locally in the right way, right place or right time. Rotablation is designed to target hard calcium and not the soft lining of the blood vessels. It allows debulking of the calcium, and this then makes it possible to complete the procedure using conventional techniques with balloons and stents. Thanks to the development of this service we are now able to deliver this optimal treatment locally to our patients with calcified coronary arteries."
The rotablation service at Musgrove Park Hospital is led by Consultant Cardiologists, Dr Mike Seddon and Dr Dan McKenzie and a team of three specialist nurses with the support of their colleagues and managers.
The team undertook six cases at Royal Bournemouth Hospital under supervision of the Bournemouth team, and the first four patients underwent their rotablation procedures in September 2015, again performed under the supervision of the Bournemouth team.
All patients were delighted to have their rotablation locally, and to avoid either travel to Bristol or bypass surgery.