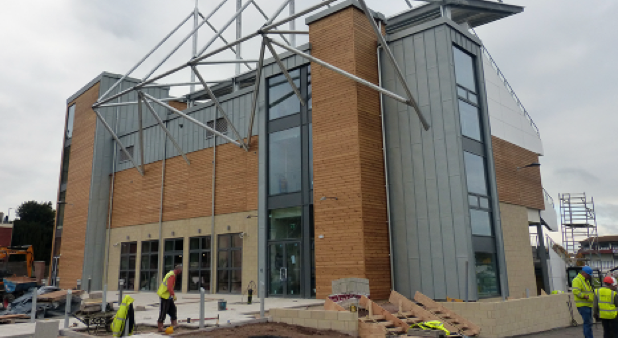 Sean Johnson, the site foreman for R.G. Spiller Ltd. at Somerset County Cricket Ground, is a very proud and happy man because the new Somerset Pavilion is almost ready to hand over to the Club.
"Things are all coming to a close now and within a week or so we will be done," he said.
"We are just finishing off all of the external bits and pieces with a bit of concrete and some tarmac.  Then it will be all spick and span and up and running.
It's a nice building from the outside and I hope it will be a real asset to the Club."
Sean is currently without a base to work from but he didn't seem too bothered as he explained:
"They have taken my office away today!  I am homeless and working out in the open air, but you know things are coming to a close when the offices are moved away!"
Sean thinks that people will be surprised by the size of the building when they walk inside.
He said:
"Looking from the outside a lot of people don't realize just how big it is.
From the cricketing aspect there are some fantastic views of the ground and beyond.  From the Clubs perspective I hope that this new pavilion will signal the start of a new era for Somerset as well."