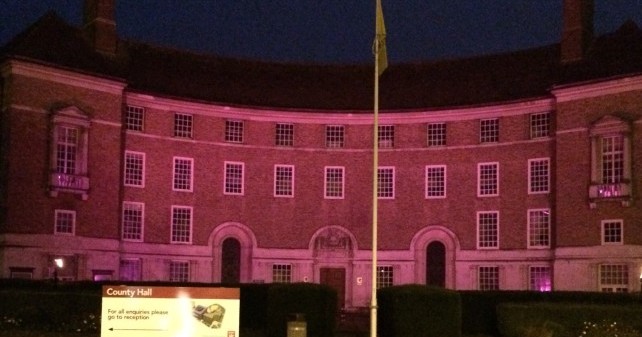 One of Taunton's most iconic landmarks is being illuminated in purple light throughout November to mark Pancreatic Cancer Awareness Month.
Somerset County Council is lighting up County Hall as part of Pancreatic Cancer UK's Purple Lights for Hope awareness campaign. The campaign is intended to bring people together across the UK and unite them in their commitment to raise awareness of pancreatic cancer.
Purple Lights for Hope celebrates the lives of loved ones dealing with a pancreatic cancer diagnosis and remembers those who have sadly died of the disease, whilst also spreading a message of hope.
It has captured the imagination of patients, families, health professionals and campaigners since its launch last year when 60 landmarks and buildings lit up in the UK, including the Trafalgar Square fountains in London, the SSE Hydro in Glasgow, the Brighton Wheel and the Spinnaker Tower in Portsmouth.
Cllr Christine Lawrence, Chairman of Somerset County Council, said:
"In Somerset, one person dies from pancreatic cancer every four and a half days. The disease is the county's fifth biggest killer, with 94 new pancreatic cancer cases diagnosed and 82 deaths recorded in Somerset in 2013. By lighting up County Hall in purple we are helping to put a spotlight on pancreatic cancer and to highlight a disease that many people still know so very little about."
Only around four per cent of people diagnosed with pancreatic cancer survive five years or more. This figure has hardly changed in 40 years. It is the fifth most common cause of all cancer deaths in the UK and it is predicted that by 2030 pancreatic cancer will overtake breast cancer as the fourth most common cancer killer.
Alex Ford, Chief Executive of Pancreatic Cancer UK said:
"Purple Lights for Hope presents a fantastic opportunity to raise awareness of pancreatic cancer. The disease has the lowest survival rate of all the 21 common cancers, so it really is crucial that we all find out more about it.
"On behalf of everyone at Pancreatic Cancer UK I would like to say a huge thank you to Somerset County Council for helping us to spread the word about pancreatic cancer, as well as a vital message of hope to everyone affected by the disease."
To order free Purple Lights for Hope glow sticks, and find out which other venues and landmarks will be lit up purple, visit www.pancreaticcancer.org.uk/purplelights.
Pancreatic Cancer UK is delighted to have the support of Festive Lights, which is donating 10 per cent of each sale of indoor and outdoor purple fairy lights to Pancreatic Cancer UK during October and November.
Throughout the campaign, supporters will be uploading photos and updates from across the UK on Pancreatic Cancer UK's social media platforms, Facebook and Twitter (using the hashtag #purplelights).