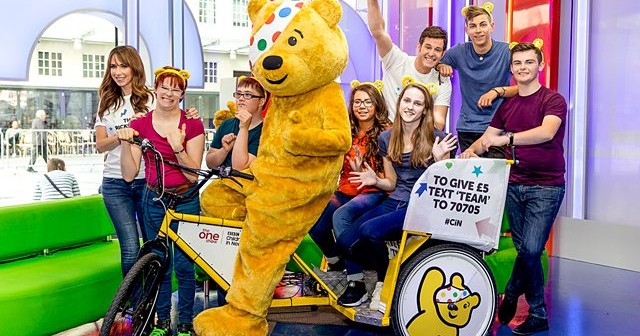 Taunton is getting set to welcome The One Show's Rickshaw Challenge as it pedals into town this Sunday 8 November.
The rickshaw pedalled by six young riders accompanied by One Show presenter Matt Baker will stop outside the Taunton Visitor Centre in the High Street in the early evening.
Taunton Deane Mayor Councillor Mrs Marcia Hill and Visitor Centre Manager Andrew Hopkins will be there to greet them as they as they complete day three of the 470 mile challenge from Land's End to the East End.
Members of the cast of Merlin being staged at the Brewhouse Theatre will join Visitor Centre staff and Bath Place traders in the welcome party.
The Rickshaw Challenge is part of the BBC Children in Need appeal and has raised £7.9 million in its five year history.
During their stop-off in Taunton they will be asking people to dig deep and donate to help disadvantaged children in the UK.
Andrew Hopkins said:
"We are delighted to welcome the One Show's Rickshaw Challenge to the Taunton Visitor Centre and would encourage members of the public to come along and show their support."
This year's team is made up of six young riders who have all been supported by BBC Children in Need projects. Matt Baker will be with them throughout the challenge, while fellow One Show presenter Alex Jones will split her time reporting from the studio and on the road.
The team set off from Lands' End on Friday 6th November working their way across England in a bid to cross the finish line at Elstree on Friday 13th November in time for the BBC Children in Need Appeal Show.
Cllr Mark Edwards Executive Councillor for Business Development, Asset Management and Communications, said:
"It would be wonderful if members of the public could join us in welcoming the Rickshaw Challenge to Taunton. We are honoured to host them and would be proud if people could show their support by donating to Children in Need."
Support the challenge by turning up on Sunday to give the team a boost or you can donate either £5 or £10 by text.  
To donate £5 text the word TEAM to 70705 or to donate £10 text TEAM to 70710. Texts will cost your donation plus the standard network message change.  All of your donation will go to BBC Children in Need. You must be 16 or over and please ask for the bill payer's permission.  For more information and full terms and conditions go to bbc.co.uk/pudsey.