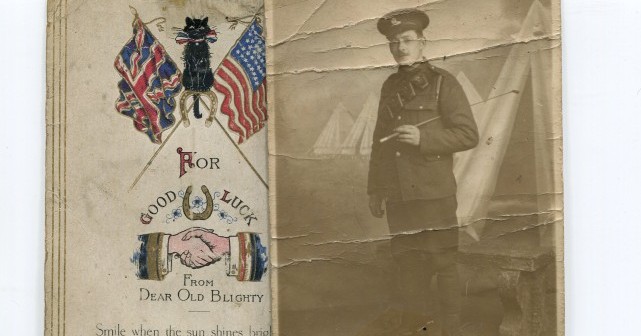 A community focussed WW1 Centenary Project Exhibition opened this weekend at the Creative Innovation Centre, Taunton. Supported by the Somerset Armed Forces Community Covenant, of which Somerset County Council is a partner, the exhibition will see a huge range of items displayed at the Centre at Memorial Hall on Paul Street in Taunton.
The project comprises of a collection of WW1 photographs, newspaper clippings, documents, letters, military artefacts and photos of keepsakes, as well as family tales passed down to help build a clear picture of what life was really like for Somerset residents. These will be used as part of a public and online exhibition. All information collated will also be indexed for life by the British Library so future generations can learn about Somerset's WW1 history.
The project is also one of the largest partnerships of its kind in the South West with partners that include Heritage Lottery Fund, Somerset Armed Forces Community Covenant, 40 Commando, Taunton Deane Borough Council, The Historical Association, UK Hydrographic Office, and Somerset Archaeological & Natural History Society.
Over 90 people came forward to submit new and unknown WW1 materials for the project. The items were collated, photographed and scanned to be included within the four week exhibition where people can come and view the exhibits in person. This will include a Remembrance service at St Mary's Magdalene Church, Taunton.
Funding from the Government's Community Covenant Grant Scheme was used to buy computers and scanning equipment, to cover printing costs and marketing as well as spend on project management time.
Cllr Christopher Le Hardy, Chairman of the Somerset Armed Forces Community Covenant, said:
"We were honoured to support the funding bid for this fantastic project – a timely exhibition with Remembrance Day just around the corner.
"It is so important that we are able to teach younger generations about their past, in particular local history and this exhibition will provide a perfect platform for learning. The Somerset Armed Forces Community Covenant is keen to support any local projects with a military link and this one in particular is very close to our hearts."
Andrew Knutt, Director for the Creative Innovation Centre said:
"We have been amazed by the amount of artefacts, stories and photos that people in Somerset have chosen to contribute about their armed forces heritage. We believe there could be more done to produce an even greater selection of materials – or even a book on our WW1 heritage within Somerset.
It is thanks to funding that we could develop the tools to host this exhibition and subsequent public and school events. Similarly, we are really grateful for the help and support we have received from the local community, without their contributions this exhibit would not have been the success that it is."
The exhibition at the Creative Innovation Centre opened to the public on Saturday 7 November.
For more information visit http://www.taunton-ww1.co.uk/ or contact on 01823 337477.
For further information on the Somerset Armed Forces Community Covenant visit: www.somerset.gov.uk/forcescovenant