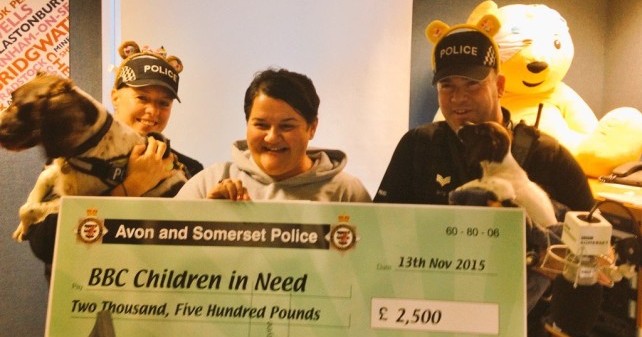 Officers from various parts of Somerset have been helping to keep Emma Britton's spirits up as she continues her live 24 hour broadcast on BBC Somerset for Children in Need.
Emma started her broadcast yesterday, 12 November, at 7pm and will continue broadcasting through until 7pm tonight, Friday 13 November.
Before her epic broadcast began, she had some encouragement and support from Temporary Chief Constable Morgan on Wednesday and she was visited yesterday by PCs Lindsey Pendleton and Trudy Gunn on horses "Sedgemoor" and "Quantock.
During Thursday evening, members of the Taunton Police Cadets dropped by to say hello. Eight hours in, PCs Andy Rigby and Lisa Davies from Avon and Somerset Police's Taunton Response Team went to visit her, at around 3am, to keep her spirits up and give her some top-tips on working a nightshift.
Sgt Denis McCoy and PC Louise Grabham, from the Constabulary's Dog Section, also surprised Emma at 2.00pm this afternoon. Not only did they arrive with several four-legged members of the section, including eight-week-old puppy Effie and drugs dog Ollie, but they were also armed with a large check for Children in Need.
Sgt McCoy was able to hand-over the cheque for £2,500 which was raised by donations from the public and stall-holders at the Force's Open Day, which was held in September at Police HQ in Portishead.
He said:
"I was absolutely delighted to be able to make this presentation on behalf of the Force to such a wonderful charity.
"We know the money will be put to good use, so thank you to everyone who came to the open day and donated cash and to the food stall-holders for making a contribution. As you can see it has gone to an excellent cause!
"Well done to Emma, she's done a sterling job so far. In our job we know what it's like to have to work long-hours but it's really tough going if you aren't used to it. So well done to her. We hope that our visit has brought a smile to her face. Effie the puppy certainly went down well."
Sgt Andy Murphy and some of his team of hard-working Halcon Little Litter Pickers & Link Power Volunteers raised money over the weekend by undertaking all sorts of fundraising tasks including having their legs waxed! Ouch!
Officers and staff at Avon and Somerset Constabulary wish Emma and the whole Children in Need Team the best of luck and hope they raise lots of money for this excellent cause.