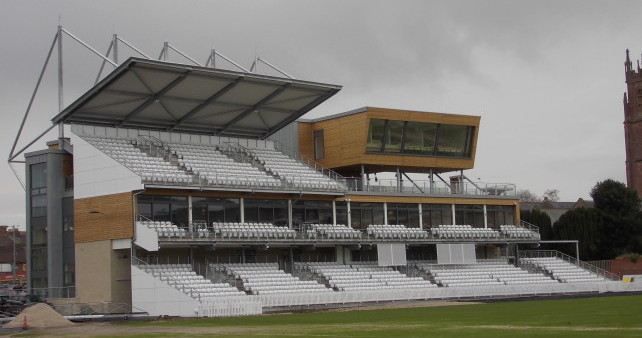 Somerset County Cricket Club have officially opened their new Somerset Pavilion.
The new building replaces the Old Pavilion enabling the club to host international matches and 'delivers a huge improvement in facilities' to guests on both match and non match days.
It was officially opened yesterday (Friday 20 November) by the Chairman of the England and Wales Cricket Board, Colin Graves.
It includes tiered ground floor and top floor seating, a roof top terrace, café bistro and media centre.
Somerset CCC Chairman Andy Nash said:
"The opening of the new Somerset Pavilion is a pivotal time in the long history of Somerset County Cricket Club. It represents the completion of Phase 4 of the staged redevelopment of one of cricket's most famous County grounds.
It will also achieve Category B status, provisionally granted to us by the ECB in 2013 and so secure international cricket at The County Ground. This will bring huge financial benefits to Somerset County Cricket Club and its hinterland as World Class cricket comes to Taunton.
Vitally, the Somerset Pavilion also delivers a huge improvement in facilities for our Members, supporters and guests for matches and non-match days.
Chief Executive Guy Lavender said:
"This is a huge moment for everyone connected to the Club.  The opening of this building will see Somerset County Cricket Club move to the next level both on and off the field.
I would like to take this opportunity to thank all those who have supported this project so generously. We are exceptionally proud of the Somerset Pavilion and I am sure that everyone who uses the facility, whether that be for a conference, a wedding reception or for watching cricket will be suitably impressed by their experience."
Sean Johnson, the site foreman for R.G. Spiller Ltd. at Somerset County Cricket Ground said:
"From the cricketing aspect there are some fantastic views of the ground and beyond. From the Clubs perspective I hope that this new pavilion will signal the start of a new era for Somerset as well."