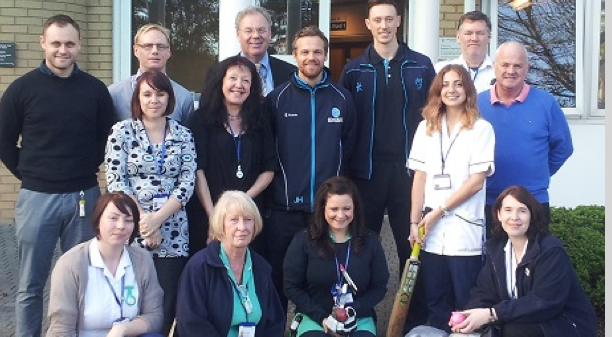 James Hildreth and Adam Hose made the short trip to Cheddon Road on Friday to donate some cricket equipment to the Somerset Partnership NHS Foundation Trust.
The equipment, which was kindly donated by Somerset County Sports and the Somerset Cricket Board, will be used by the Rydon Mental Health Ward as part of their occupational therapy sessions.
The players spent some time talking with staff and patients and on making the donation James Hildreth said:
"It is vital that we as a Club play an active role within the community. All of the lads are always more than happy to get involved in anything that we can do to help people out.
As professional sportsmen we have a duty to support charities, hospitals, organisations and individuals and I think it's safe to say that everyone at the Club really enjoys doing their bit.
I really hope that this kit can help people on the road to recovery and would like to thank Richard Brice from Somerset County Sports and the Somerset Cricket Board for donating it to this worthy cause."
Adam Hose said:
"Since joining Somerset I have been really impressed by the amount of community engagement work that the Club undertakes. When I was asked if I would come along today I was happy to get involved. Working with and helping to support the local community is something that we all want to get involved with."
The Chief Executive of Somerset Partnership NHS Foundation Trust Edward Colgan said:
"I am delighted to welcome the Somerset players and I would like to thank them for this donation of cricket equipment to the ward. I know that team activities build a sense of achievement and camaraderie and the fine game of cricket is the epitome of that team spirit.
"Our patients are looking forward to using this kit during the Summer, getting active and working together which is all important on the journey to recovery. With this equipment I hope we can look forward to a few more centuries than ducks and that patients will be encouraged to deliver their fair share of googlies and reverse sweeps!"
"On behalf of our patients and staff, thank you to all at Somerset County Cricket Club for this very generous gift."