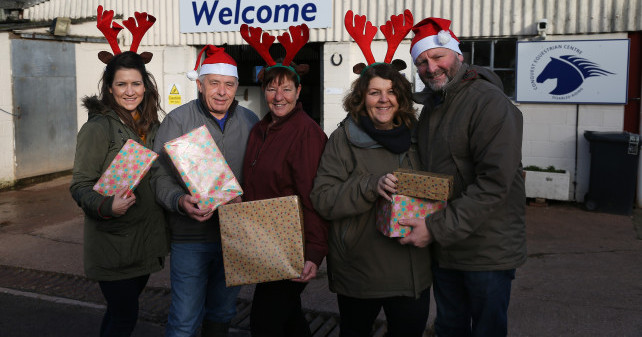 Local lottery winners have helped a Taunton charity get the festive season underway with a visit to Conquest Centre where they delivered gifts and spread Christmas cheer.
Five winners from across the South West, with a combined fortune of over £10 million, joined forces yesterday to spend the day volunteering at the Centre.
Dione and Richard Buss from Bridgwater, Jenn Burston from Taunton and Paul and Denise Hardware from Street, pulled on their wellies and got stuck in to help with yard duties, painting and supporting riding lessons.
Over the last three years Conquest Centre has received over £25,000 via various forms of The Big Lottery Fund.
The centre specialises in a range of equine activities for adults and children with a wide range of disabilities. All the centre's activities are supervised by full qualified specialist instructors, who in turn are supported by a team of trained volunteers. Their core activities include riding, carriage driving, horse care, back-riding and sensory work.
One of the winners in attendance was Dione Buss whose daughter Harriet is a passionate horse rider and introduced Dione to the centre when she volunteered there a few years ago.
Dione said:
"This is such a great charity which works with over 180 people each week. I was thrilled that we were able to help out and find out a little bit more about what the centre does for so many people."
Dione and her husband Richard won £1.9m in 2013 and have moved house as well as investing in a holiday home in St Ives.
Teresa Wort, Corporate and Community Fundraiser for Conquest, was delighted to welcome the winners to the centre and accepted gifts on the charity's behalf, including equipment for the riders and festive treats for the volunteers.
Teresa said:
"Our volunteers keep the centre running all year round and it was great to have some extra sets of hands to lighten their load for the day. We are also extremely grateful to the Lottery winners for their gifts – they will make a real difference in the months ahead."