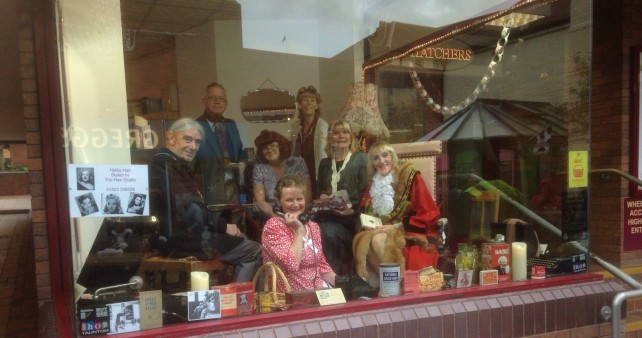 Taunton stepped back in time on Saturday (5 December) when Reminiscence Learning brought to Taunton for the first time, a moving tableau of a typical 1940s Christmas Day, in the Orchard Centre window of Hatchers department store.
Members of the public stopped to look at the original memorabilia and watch the team: open their stockings in front of the fire, have their hair authentically styled by the Hair Studio, make mince pies at the traditional kitchen cabinet, lay the table and share Christmas dinner with Paul Hughes, President of the Rotary Club of Taunton Vale and welcome VIP guests: Deputy Mayor of Taunton Deane, Councillor Vivienne Stock-Williams and The Worshipful Mayor of Taunton Deane, Councillor Marcia Hill with her consort – all opened presents and shared in traditional Christmas fayre.
Father Christmas and volunteers from the Rotary Club of Taunton Vale played 1940s Christmas music and collected £231.80 to help local people living with dementia.
Reminiscence Learning provides a specialist training experience for three main areas within the care industry that are dementia care, planning activities and reminiscence therapy.
The Somerset based charity said:
"Reminiscence Learning would like to thank all involved for sharing a fun day and hope you will join us next year for our 1950s Christmas Day!"