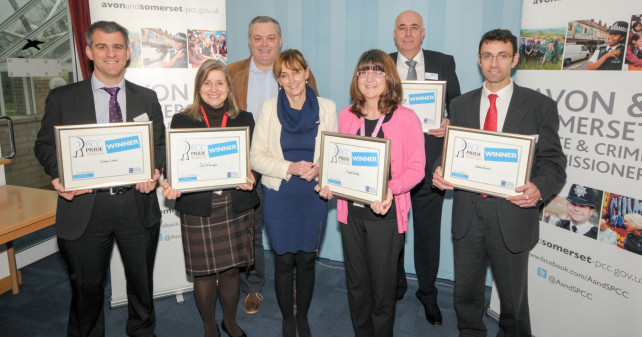 One Teams in Taunton Deane are making a real difference to lives of people by bringing agencies together to solve problems and improve lives in areas that have had difficulties in the past.
Now both leaders and frontline staff are being recognised by Avon and Somerset Police and Crime Commissioner Sue Mountstevens through Pride awards.
Cllr Jane Warmington, who leads on community for Taunton Deane Borough Council, James Barrah, Director for Housing and Communities and Assistant Director Simon Lewis, John Hart, antisocial behaviour officer and Angela Bolitho, who co-ordinates the North Taunton One Team, received their awards at police HQ yesterday (Tuesday).
The five were all nominated by Sergeant Andy Murphy, one of the One Team founders in Halcon, Taunton, who has witnessed the concept grow from a single pilot project to an award-winning initiative that is now being implemented across Taunton Deane and further afield.
Police and Crime Commissioner Sue Mountstevens said:
"I feel privileged in my role as Police and Crime Commissioner to meet some extraordinary people who achieve great things or go above and beyond what is expected without any recognition at all.
Today we heard about the selfless work of those engaged in keeping their communities safe, none more so than the individuals involved in the One Team Project.  Their dedication and commitment to their communities is exemplary and their efforts are hugely appreciated."
Cllr Jane Warmington said:
"I was very humbled to be awarded a PCC Pride Award.  The experience of coming up to Police Headquarter to accept the award has been really nice.  I've just got to find somewhere to put the award now."
In his nomination, Sgt Murphy said it was rare for leaders to receive the recognition they deserve, adding: "Collectively, these individuals have been quite outstanding in every aspect of their public duty.
"The evidence of One Team working continues to show benefits: 15% reduction in domestic abuse incidents, 21% reduction in crime, 23% decrease in calls to the Constabulary, increased referrals to early intervention, getset and support agencies.
"Agencies working together is at the heart of the One Team Process, ensuring that measures are put in place to best support a family or individual."  This approach is bringing continued improvements to Taunton Deane's most challenging areas."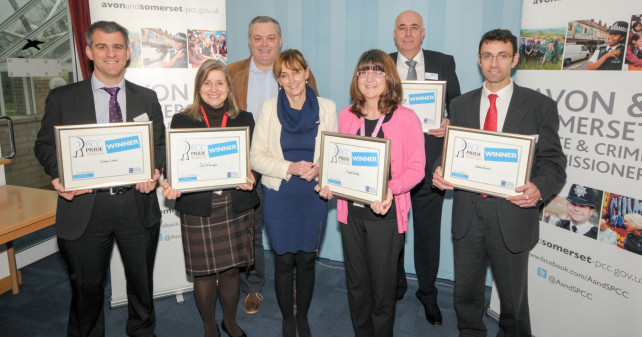 Cllr Warmington, first elected in 2011, is described as "the leading force" in the One Team movement. Known for her practicality and determination to get things done, Sgt Murphy said she "is completely selfless a truly dedicated ambassador for common sense and keeping things simple and has a real passion for getting things done!"
James Barrah has been involved in the One Team concept for the past three years, seeing teams established in North Taunton and Wellington to complement the Halcon initiative.
"James has widened the One Team vision, explored and continues to explore the difficult and complex parts of public sector life, determined to bring together more effective ways of achieving outcomes together in the most efficient way possible.
James is leading this change. His leadership is exceptional, his vision, reassuring and his commitment, unquestionable – we are lucky to have such a talent!", said Sgt Murphy.
Simon Lewis has helped create new partnerships a, bringing together agencies that have not always enjoyed close working. "As with his colleague James Barrah, we remain extremely fortunate to have such an exceptional leader in Simon, someone who always goes the extra yard to make a difference," Sgt Murphy said in his nomination.
John Hart is described as "a fantastic advocate" of One Team partnership working, leading by example and constantly looking for new ways to improve. He has led the "chill and chat" project designed to help those suffering domestic abuse. Since it started, the incidence of domestic violence has fallen by 15%.
"He is a complete talent and a great asset to us within the Halcon One Team," said Sgt Murphy.
Angela Bolitho was recruited by Avon and Somerset Constabulary to project manage Halcon One Team when it was established. She is now the North Taunton One Team co-ordinator.
Her nomination says: "She has a real passion for safeguarding our young and most vulnerable and even in the short period she has been in post, Angela has quickly defined significant gaps and key pieces of work that have, and will continue, to keep our communities and people safe."