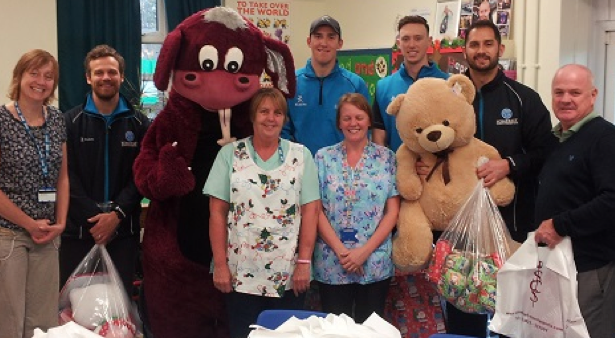 A number of the Somerset squad joined up with Stumpy this week and made the annual Christmas visit to the Children's Ward's at Taunton's Musgrove Park Hospital.
James Hildreth, Craig Overton, Adam Hose and Assistant Coach Jason Kerr were joined by Richard Brice from Somerset County Sports and spent the afternoon meeting all the children and handing out Christmas presents.
During this years visit James Hildreth said:
"Once again this has been both emotional and rewarding. As a parent myself I know how hard it must be to have a child who is poorly, especially at Christmas so we all jumped at the chance to come down here to spread a little Christmas cheer.
Every year there are some genuinely moving stories and we always meet some real little characters too. It's vitally important that we as a Club continue to help out in the local community in any way that we can."
Spencer Bishop from the Club's Commercial Department said:
"To be able to put a smile on a child's face is something really special and the players and Stumpy certainly did that. We would like to take this opportunity to thank Morrisons, The Entertainer, Sainsburys and Austins Department Store for donating some of the presents and to Somerset County Sports for supplying the goodie bags."
Jane Horn, one of the Musgrove Park's Play Specialists said:
"The visit from the players went really well. It's nice for the children to have something positive happening when they come in to the hospital. It's really nice to see some smiling faces and to see the cricketers down here again."