Staff and volunteers at the Museum of Somerset are celebrating an outstandingly successful 2015.
More than 107,000 visitors will have come through the doors by the end of the year, thanks not least to some special exhibitions and increasing use by Somerset schools.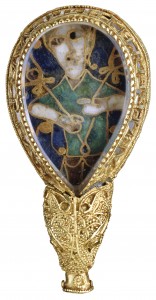 The arrival of the Alfred Jewel for the month of February attracted an unprecedented 24,500 visitors to the museum. They came from all over Great Britain and from as far away as New Orleans to see the most famous treasure of Anglo-Saxon England back in its home county.
The museum's summer exhibition, 'Brick Wonders', drew more than 900 people a day at its height, seeking to discover the wonders of the world recreated in Lego.
Visitor Services Manager Susie Simmonds said:
"When the museum opened in 2011 we set ourselves a target of 60,000 visitors a year, so we're thrilled to have welcomed such a large number of people during 2015. Our amazing museum team is supported by a wonderful group of loyal volunteers who are essential to the work the museum does."
Tom Mayberry, Chief Executive of the South West Heritage Trust, which runs the museum, said:
"We're delighted and proud that the Museum of Somerset has become such an important contributor to Somerset's cultural and economic life. We'll be making sure that the museum continues to find new and engaging ways to reveal Somerset's wonderful heritage to the widest range of people."
The Museum of Somerset became part of The South West Heritage Trust, a new independent charity, on 1 November 2014.
As well as the widely-praised Museum of Somerset and the current redevelopment of the Rural Life Museum, in Glastonbury, the Trust manages state-of-the-art facilities in Taunton and Exeter to care for the extraordinary archive collections of the two counties.
The Trust also provides essential advice about the historic environment and manages historic sites.