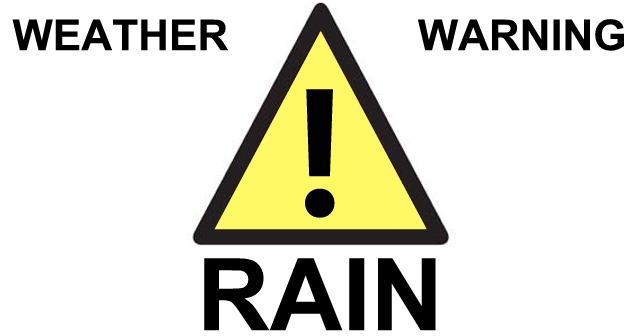 The Met Office has issued a yellow weather warning for rain across South West England from tomorrow until Sunday.
Some local disruption from surface water and river flooding looks likely as spells of persistent and at times heavy rain is expected to fall through Friday and Saturday.
Following a brief respite on Saturday night, more rain will fall through Sunday morning before clearing away northeastwards during Sunday afternoon.
A flood warning issued last night for the River Tone Catchment is no longer in force, however a flood alert is still in place which states that flooding is possible and to be prepared.
The Met Office's Chief Forecaster said:
"The first low pressure system arriving on Friday is expected to bring 10 to 20 mm of rain widely across the warning area, with 20 to 40 mm expected on hills especially those exposed to the southeasterly wind. Up to around 50 mm is possible on the highest parts of Dartmoor and the Brecon Beacons. This system is expected to clear during Friday evening but will be followed by scattered and possibly heavy showers.
The second system arriving early Sunday is expected to bring similar amounts again before it clears during Sunday afternoon, to be followed once more by scattered and locally heavy showers.
While these amounts of rain wouldn't usually lead to many impacts, given the saturated nature of the ground there is a greater risk of localised surface water flooding that might normally be expected. Some rivers within the area also remain high."
The areas affected are likely to be:
Cornwall, Devon, Plymouth, Somerset, Torbay.
The warning is valid from 18:00 Friday 1 January – 15:00 Sunday 3 January.