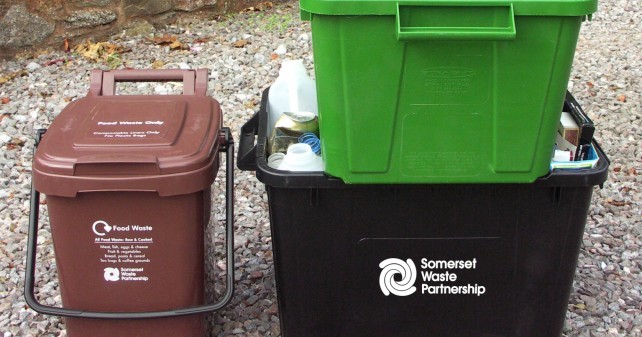 Waste collections across Somerset are slowly catching up after a series of delays and disruptions around Christmas and New Year, when bank holidays brought day changes and extra recycling slowed down collections.
Storm damage to a recycling depot prevented collections for thousands of homes after Christmas, while a crash blocking the M5 had a similar impact in the New Year.
And despite extra crews and vehicles at Christmas, the weight of recycling has been far in excess of levels predicted, especially the bulky problem of cardboard from internet shopping that stops collections for hours with unplanned vehicle unloading.
Somerset Waste Partnership says hundreds of homes are still facing delayed collections, and has identified these locations as affected on Thursday or likely to be affected on Friday and thus priorities for action:
Parts of Taunton's Blackbrook, Holway, Trull and Staplehay areas
Part of Wells, Street and Glastonbury
Parts of Yeovil
Standard practice is to try to return within two working days, so residents should re-present uncollected waste each day by 7am.
Somerset Waste Partnership will be aware if full streets have been missed, so residents do not need to contact their district council customer services.
To speed up collections and help hard working crews, Somerset Waste Partnership advises:
Sort and segregate all materials in recycling boxes
Rinse all containers, discard tops into rubbish
Squash all except glass and aerosols
Flatten large cardboard under recycling boxes (any more than equivalent of two recycling boxes should be dropped off at a recycling site)
Ensure all textiles, clothes and shoes are carefully bagged (not in black sacks) to stay completely dry
Out by 7am, weighed down if windy, with extra recycling in carrier bags
Collections this week are a day later, including "Friday" pick-ups on Saturday 9 January, but all services – including garden waste collections – revert to usual schedules from Monday 11 January.
If they have transport and time, residents may prefer the certainty of dropping off recycling and rubbish to any open recycling site together with their Christmas tree for composting.
On Friday, these recycling sites are open 8am to 4pm: Bridgwater, Chard, Frome, Highbridge, Minehead, Somerton, Taunton, Wells and Yeovil. On Saturday, all 16 recycling sites are open 8am-4pm.
A Somerset Waste Partnership spokesman said:
"These are explanations – not excuses – for why and how unexpected events have slowed down collections and made problems for residents.
More importantly, we can now see that despite some continuing difficulties, the situation is improving.
All collections – including garden waste – will revert to their usual schedules from Monday. And there is a lot anyone can do to help themselves and others."
For more on collections, sites and how to recycle your Christmas tree visit www.somersetwaste.gov.uk