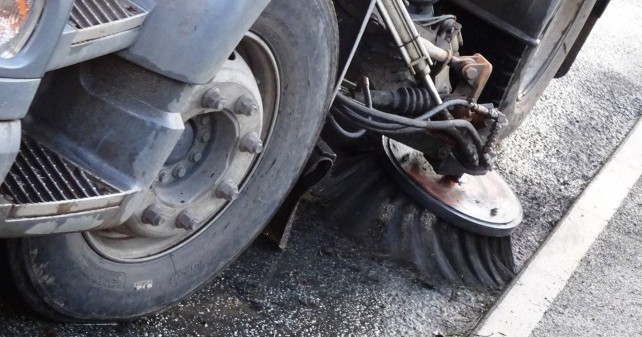 The leaves, gravel and rubbish found in street sweepings are being successfully recycled or turned into fuel as part of efforts by Somerset Waste Partnership to save materials and money for council tax payers.
Collected by every district council in Somerset and until recently buried in costly and polluting landfill, street sweepings are now being sorted and reused as five grades of sand or gravel for new roads, house building and other construction tasks.
And any organic matter – from leaves to fast food wrappers – is processed and blended into "RDF" or refuse-derived fuel for burning to generate heat and power.
The story was captured for the TV news this week, with Sedgemoor District Council cleaning operative Eric Dyte having a starring role in explaining how the machine works and what his job entails.
Every day, council road sweeping trucks tour the 6,600 km of Somerset's rural lanes and town streets, collecting all the materials found in the road gutters.
All that muck ends up at the landfill sites at Dimmer near Castle Cary and Walpole near Bridgwater operated by waste firm Viridor before being "dewatered" – allowed to drain – bulked up and sent off for processing.
And the muck turns into brass, or at least new resources for use in construction.
As well as the organic matter used for fuel, the mechanical shifting separates out five grades of aggregates: sharp sand, soft sand, 10mm gravel, 20mm gravel and larger gravel.
Almost 8,000 tonnes of street sweepings were processed in the first full year of recycling, saving at least £10 a tonne over the cost of landfill burial.
And that extra recycling was one factor that helped raise Somerset's recycling rate to over 52%, when the national and EU recycling targets is 50% by the year 2020.
The £80,000 a year annual saving is indicative of the efforts now being made by SWP to seek savings and efficiencies in every aspect of waste.
These range from raising food recycling rates to seeking solutions to rubbish that go beyond landfill and trials of new materials to add to households' recycling collections.
A Somerset Waste Partnership spokesman said:
"Even the dirt in the street is a potential resource that should not be wasted.
"This underlines the point that every person in Somerset can help waste far less, recycle much more and so save plenty of money."