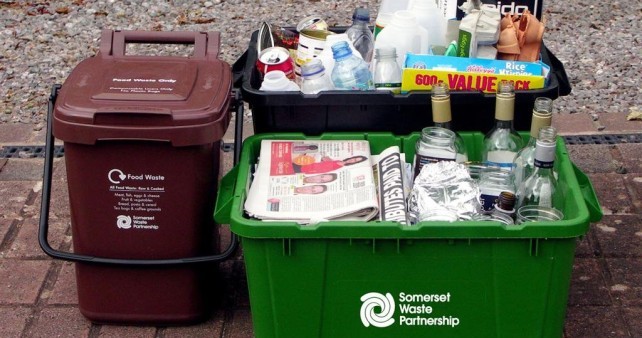 Residents are being urged to guard their waste against Monday's Storm Imogen and the windy and wet weather forecast all this week.
Somerset Waste Partnership says householders have a range of options in dealing with Imogen's predicted gusts of up to 60-70mph in some places.
If you have space, you could store anything that does not need to go immediately. Or if you have transport and time, a smart move might be to get rid of recycling and rubbish at any recycling site.
Squash everything except glass and aerosols, flatten large card under recycling boxes, stack boxes or cover and weigh them down.
The food waste bin, locked with the handle fully forward, can be used to hold down fly-away recycling.
If possible, put boxes in a sheltered spot that can still be clearly seen by collection crews.
Put out recycling as late as possible before 7am on collection day – the night leaves your waste vulnerable to the wind and wildlife – and take in empty boxes as soon as possible.
If it is wet, the only materials that must be kept complete dry by careful bagging are textiles, clothes and shoes.
Somerset Waste Partnership said:
"Every individual and business has a legal duty of care over their waste until it is collected, so you should clear up any mess your waste creates.
If crews make a mess and do not clear it up, tell your council customer services, but crews have no time to clear streets of litter.
Sort materials in advance, ask and take staff advice, stay safe and take care with children, reversing vehicles and dropped debris."
Somerset Waste Partnership also urges residents to help neighbours who may find it difficult to deal with their waste.
As high winds can cause recycling sites to close at short notice for safety reasons, residents are asked to be patient if that is necessary.
On Monday, all recycling sites again open at 8am, with the Bridgwater, Frome, Minehead, Taunton and Yeovil open to 4pm but the remaining 11 sites open to 7pm.