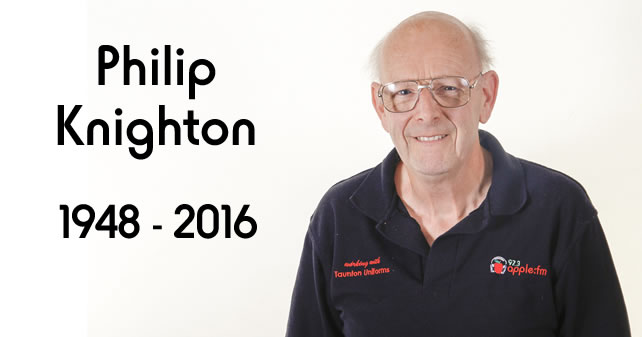 Philip Knighton has been Apple FM's Managing Director since August 2014.
Born in Taunton on the 28th January 1948, Philip's toddler years saw him growing up in Priorswood before the family eventually moved to Roman Road to be close to his Grandparents when he was three years old.
He was educated in his latter teenage years at Richard Huish College to 16 years old, when he progressed to Taunton Technical College – Now the Somerset College of Arts & Technology – where he gained an Ordinary National Diploma in Mechanical and Electric Engineering.
From his teenage years he was very into Motorcycles, repairing and re-building ones he would buy from friends, as was the thing to do at that time. He once said that in a 2 year period he had owned over 200 of them! His passion for motorbikes lasted his life long, even just buying another vintage one in the last year to try to repair and rebuild it from a poor state.
Another life long passion – and arguably his biggest one – was radio. He was fascinated with sound and soundwaves, from an electrical engineering point of view and from a production view, too.
He would cycle along doing his paper round on his bike as a teenager and pick up old radios left at dustbins that were been thrown out, bring them home and try to fix them; sometimes successfully and sometimes leaving burn marks in the ceiling where an internal electrical component had exploded because he hadn't quite got something right…!
He started his working life as a Student Engineer at South Western Electricity Board (as it was then) where he stayed for 4 years.
Whilst at SWEB, in 1970, he applied to the BBC to be a High Power Transmitter Engineer and got the job where he worked at, amongst others, Penrith, Wooferton & Rampersham Transmitter Stations.
He then applied to move over to Medium and Long Wave Stations that included Westerglen in Scotland, Brookman's Park in London & Washford.
In 1976 he moved to BBC Local Radio Engineering working at BBC Radio Carlisle where he stayed for the next 2 years before having the suggestion made to him by a former colleague and friend from his High Power Transmitter Engineering days that he should apply to the Guatemalan Federation of Radio Schools in South America, as a Voluntary Services Overseas Radio Engineer After much soul searching he decided to go for the post and spent the next 2 years there, building Community Stations from scratch, training Staff and all manner of other jobs.
He returned to the UK in 1980 and started his own radio, record player & Gramophone repair business.
In 1988 he married his wife Vivienne, who already had two young Daughters. Philip and Vivienne went on to have another two daughters together.
During the following years he continued with his own business in Wellington and eventually found himself on commercial radio at Orchard FM as a Presenter. Once Orchard FM closed and it's frequency was taken over by a national radio station, he started to become involved at something that had already once captured his heart – Community Radio.
He was massively instrumental in the setting up of 10 Radio in Wiveliscombe and presented a breakfast show on it for a while. By 2004 he has also joined Apple AM, which served the Patients and Staff at Musgrove Park Hospital. In 2010 he was the coordinating officer for the application to convert Apple AM into a fully fledged FM Community Radio station, taking on the role of Community Radio Champion until the Licence was granted by OfCom for Apple FM to start, when he became a Director of the Community Interest Company that runs Apple FM.
All during this time, his business continued to operate until he was diagnosed with Hodgkins Lymphoma in 2012 and needed to start invasive treatment straight away. He underwent many bouts of chemotherapy and went in to remission on a couple of occasions. Unfortunately, the Lymphoma eventually returned and this time proved more aggressive.
In May 2015 Philip was invited to a Royal Garden Party when Apple FM was bestowed the prestigious honour of the Queens Award for Voluntary Service – equal to an MBE. There is no higher accolade that can be awarded to Voluntary Groups and the award proves to be a testament to Philip's guidance and leadership as Managing Director. In September 2015 Philip received the Crystal award from the Lord Lieutenant of Somerset on behalf of Her Majesty in a ceremony held in Somerset County Hall with various dignitaries in attendance.
Philip sadly lost his very brave long term battle with Cancer on the evening of Saturday 20th February 2016 and passed away at Musgrove Park Hospital, Taunton.
He will be very dearly missed by his Family, his Friends, his Apple FM and 10 Radio extended families and all the colleagues he has known and worked with throughout his very varied and worthwhile life.
Apple FM will most certainly not be the same without this most kind, gentle and humble man being a part of it. We are who we are because of him and for that we are eternally grateful.
Phil Hodgson
Director, Apple FM
We will be airing an unique, fantastic interview where Philip was asked questions  by Michaela Phimister about his life, followed by a previously unaired edit of his Golden Delicious Show where he will be able to say goodbye for the final time on radio:
Michaela Talks to Philip – Thursday 25th February 2pm
Golden Delicious  Edit    – Thursday 25th February 3pm