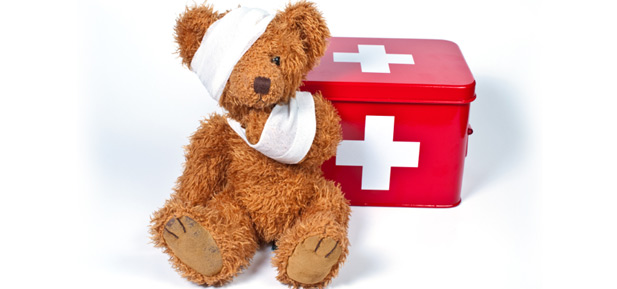 *Competition available – read below!*
Your child – or one in your care – has a bad accident and needs urgent First Aid.. It's one of the most frightening things you will ever have to deal with unless you know what you're doing.
Thankfully, there are courses that can teach you what you need to know in Paediatric First Aid in case an emergency happens and happily, courses are available in Taunton.
Olive Tree Training is one such training company based in Taunton and is owned by Dan Hole. Dan has both accredited and un-accredited courses held in a classroom and even online from the comfort of your own home. Olive Tree Training offers un-accredited Paediatric First Aid awareness courses for just £20 per person and they really can help you make the difference when a child needs you most.
The un-accredited course is designed for anyone who works with children, registered child minders and play group workers etc or Parents, Grandparents & Guardians who want to feel confident about what to do should their child have an accident and what makes this course extra special is that Olive Tree Training are donating 50% of the course fees from this course to the Somerset Neonatal Intensive Care Unit (SNICU) at Musgrove Park Hospital.
Dan explains that when his son, Jackson, was born he was 16 weeks premature and needed the extra care that the SNICU was able to provide and the support for him and his wife at a stressful time and wants to say "Thank You" to the unit by offering half the proceeds from the course to the Unit to allow them to help other people in the same way that they did for Dan and his family.
The Un-accredited course allows you to sit at home on your own computer and take as much time on the course as you need, even closing the browser down and coming back to it in the future and for the really fabulous price of £20 per person. If this is something that interests you then go to http://www.olivetreetraining.co.uk/online-courses
Competition time!
Olive Tree Training has very kindly allowed Apple FM to give away 4 FREE places on this amazingly useful Paediatric First Aid Awareness course and we want to make it as easy to get your names into the hat as possible, so simply email your name and contact number, along with a message to say you want to be entered into the First Aid Awareness Course competition to our competition address of win@applefm.co.uk.
Entries must be in by 11pm on Sunday 28th February 2016 and any entries after that time will NOT be considered. Four names will be pulled out randomly and those four winners will be able to take the course for FREE! There is no cash alternative and Apple FM's decision on the winners is final. Winners will be contacted by Apple FM to let them know they have won and will later be contacted by Olive Tree Training to give them their login details for the online course.