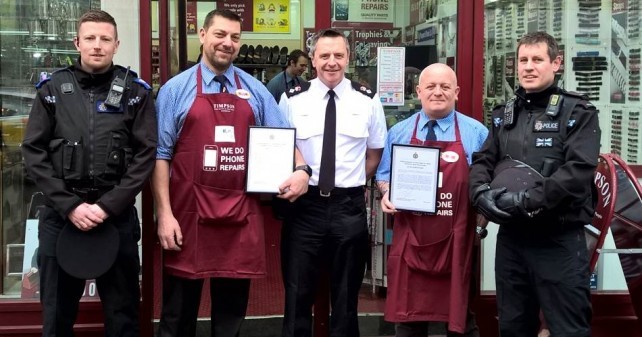 Two men who intervened to stop an armed robbery in Taunton have been commended by Somerset Policing Area Commander Chief Superintendent Ian Wylie.
Martin Hill and Bob Northover work in Timpson and stepped in when they saw a group of masked men attack a neighbouring jewellers.
It happened at about 10.30am on Wednesday 2 March in North Street, Taunton.
Chief Superintendent Wylie said:
"I commend Mr Hill and Mr Northover for their courage and bravery during this very dangerous incident. It is always very reassuring to know that there are members of the public like these men who are only too willing to help maintain law and order. Thanks to their actions further items were prevented from being stolen."
Five men have been charged in connection with the incident.
"I commend … their courage and bravery during this very dangerous incident" said C/Supt Ian Wylie
C/Supt Wylie added:
"While we would never recommend that members of the public should put themselves at risk, we really must recognise the courage and prompt actions of Mr Hill and Mr Northover.
I'd also like to thank other members of the public who have helped us by giving us photographs and footage of the incident taken on their mobile phones. This is a great example of how our community pulls together to keep Taunton safe."
Neighbourhood Sergeant Neil Kimmins said:
"Neighbourhood PC 4250 Andy Beake (pictured far right) was patrolling the area on foot and was the second officer at the scene, just behind dog handler PC 2504 Jon Norton.
I know people have commented on the level of policing in Taunton after the opening of Bridgwater Police Centre, but this response should reassure the community that officers are patrolling the town on a regular basis and available to respond to any incidents."