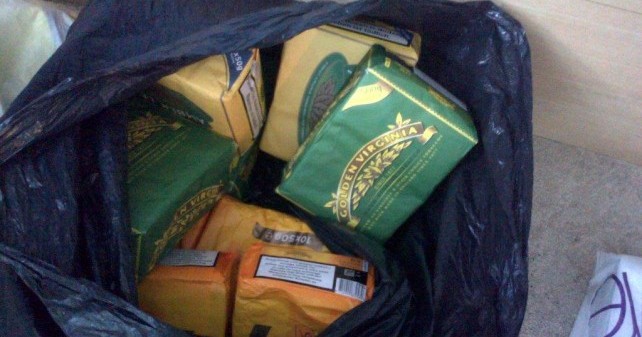 A Bridgwater shopkeeper has been convicted for the possession for supply of illegal tobacco in his shops in Bridgwater following an investigation by Devon and Somerset Trading Standards Service.
Mehmet Turan Yilderim 46 year old of The International Food Centre, Binford Place, Bridgwater, Somerset pleaded not guilty to four charges, two relating to trade mark offences, one to customs evasion and one licensing offence, but was found guilty of all four offences including the harbouring of smuggled goods to defraud Her Majesty.
On 7 March 2015, officers from the Devon and Somerset Trading Standards Service, which is a joint service commissioned by Devon and Somerset County Councils, visited the shop in Bridgwater along with Avon and Somerset police and Scamp, a dog provided by Smoke Free South West, the campaigning arm of Local Public Health Authorities.
Scamp is specially trained to search for concealed tobacco, and found it in a locked room.
In total 9kg of hand rolling tobacco and 200 packets of cigarettes were seized. This had an estimated retail value of £3,471.00.
The smuggled products were produced for the Polish and Lithuanian markets, the provenance of the counterfeit product is unknown.
Appearing this week (Thursday 17 March) at Taunton magistrates Court, Mr. Yilderim's previous good character and financial situation were taken into consideration before he was sentenced to a Community Order for a year with 60 hours unpaid work, and ordered to pay £200 costs, plus a £60 victims surcharge.
An application by Trading Standards to the magistrates to revoke Mr Yilderim's personal licence to sell alcohol was refused.
Councillor David Hall, Deputy Leader of Somerset County Council said:
"These are serious criminal offences. Illegal sales of tobacco in the South West have a huge impact on people's health.
When sold at considerably below the price of legal product they undermine efforts to reduce the prevalence of smoking.
They encourage people who want to quit to maintain their habit.
We will not tolerate the illegal sales of tobacco and will continue to take firm action to stop this type of activity by using our enforcement powers against those we catch.
Councillor Roger Croad, Devon County Council's Cabinet Member with responsibility for the trading standards service, stressed the important role that the public can play in reporting suspicious activity.
"Our officers routinely act on intelligence we receive, as they did in this case, so I would encourage consumers to continue to report those involved in selling illicit tobacco because their valuable information can significantly aid our investigations."