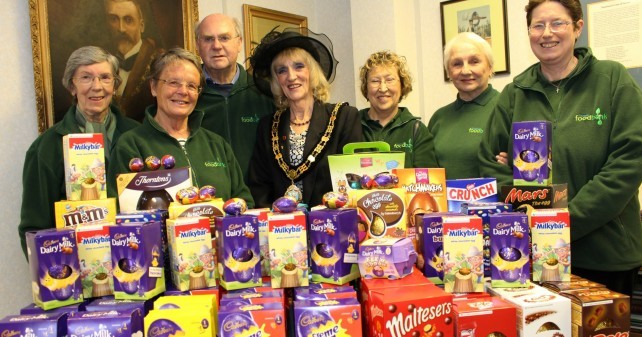 Staff and Councillors at Taunton Deane Borough Council have given generously to ensure a happy Easter for dozens of local children.
They have donated over 60 chocolate eggs to the Taunton Foodbank, one of the nominated charities of Taunton Deane Mayor Cllr Marcia Hill.
The eggs will be given out to families and individuals with children who are eligible for supplies from the Foodbank.
Cllr Hill said:
"I chose Taunton Foodbank as one of my charities for the year because it's important to me that people of any age and means can feel able to donate.
People do like to give but they can't always give money so being able to donate an item of food means that everyone can make a contribution no matter how small.
I am grateful to everyone who has put groceries in the collection points in situ all over Taunton Deane, and to my colleagues at the Council for their Easter Eggs."
Cllr Hill presented the collection of eggs to volunteers from the Taunton Foodbank, whose premises are in Belvedere Road.
Volunteer Leader Wendy Harding said:
"We are very grateful to everyone at Taunton Deane who has donated an Easter Egg this year. They will certainly bring a smile to many young faces.
Being one of the Mayor's nominated charities has really helped to raise our profile over the last year.
We have been heartened by the amount of donations made through our collection points which have helped us to support the increasing number of clients we see."
The Taunton Foodbank has collection points in the major supermarkets, and at offices, schools and churches across Taunton.
They welcome all donations of non-perishable, in-date food and are in particular need of long life fruit juice and milk, tinned ham and corned beef at the moment.