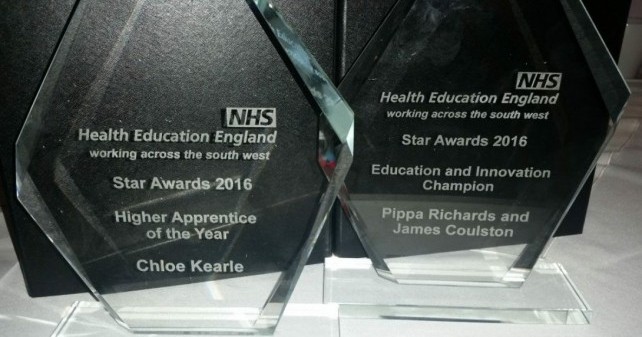 For the second time in three years, Musgrove Park Hospital won the Large Employer of the Year award in the Grow Somerset Talent Apprenticeship Awards.
The win recognises the hospital's commitment to supporting young people in Somerset with career opportunities, right from the early stages of their working lives. In this it works closely with Somerset College and Huish College.  
Musgrove's Chloe Kearle, 20, also took home her second title of 'Higher Apprentice of the Year' within a week.
The winning theme started at Health Education England's first ever Star Awards, which recognise the very best in health and social care training and education across the south west.
It was two out of two for Musgrove colleagues on the night, with Chloe winning the 'Higher Apprentice of the Year' Star award, and Pippa Richards and James Coulston winning the 'Education and Innovation Champion' Star award.
Speaking of her apprenticeship experience, Chloe said:
"It has been fantastic. The apprenticeship scheme has given me many opportunities which have helped develop my skills and knowledge, and allowed me to progress to where I am today.
Choosing to complete the apprenticeship was definitely the best decision for my career progression.
I am grateful to everyone who has supported me over the past three years which have led to me receiving these awards."
Musgrove currently employs over 80 apprentices across a range of programmes including health, I.T, engineering, business administration and customer service.
More information can be found by visiting www.musgroveparkhospital.nhs.uk/apprenticeships