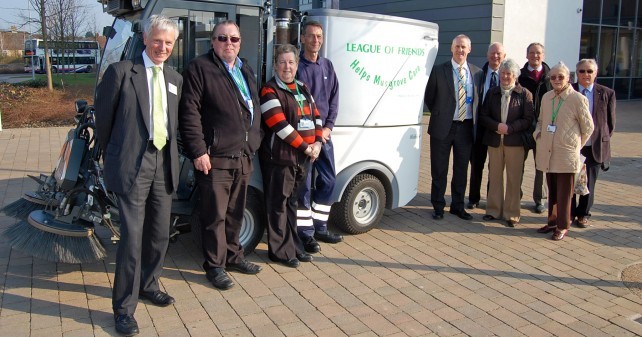 The grounds at Musgrove Park Hospital will be extra spruce, thanks to a generous donation of a state of the art new road sweeper vehicle by the League of Friends.
The League of Friends has funded a three-cylinder diesel 'Hako Citymaster 600' sweeper, to help keep the hospital roads and pathways clean and tidy – and safe for patients and visitors.
The sweeper's high manoeuvrability means it can be used to clear up a range of things including rubbish and spillages.
With added attachments, it can also be used to clear snow and spread salt or grit to keep the pathways safe for patients when bad weather threatens.
The sweeper has already saved a significant amount of time in keeping pathways clear, as it is much faster than doing the work by hand.
It also keeps its driver protected from any bad weather in a state of the art comfort cabin.
Peter Renshaw, Chairman of the League of Friends, said:
"My colleagues and I are delighted to be able to make this donation to our local hospital.
I know it will make an easier job of keeping the hospital grounds clean, helping to save the precious time of staff and maintain a pleasant and clean environment for all."
Simon Rigby, Musgrove's associate director of estates and facilities, said:
"The team and I are extremely grateful to the League of Friends for their generous donation.
Without their help, Musgrove would not have been able to benefit from such a multi-tasking machine.
The sweeper is making a real difference in supporting the ongoing maintenance of a clean site, as well as saving colleagues' time and saving the hospital money."
Formed in 1959 by The Rotary Club of Taunton, The League of Friends of the Taunton Hospital, is one of the oldest local charities, promoting voluntary service in the hospital and raising funds to buy extra equipment over and above what the NHS can afford to provide.
More information about the League of Friends of the Taunton Hospital can be found by visiting www.leagueoffriendsmusgrovepark.co.uk/