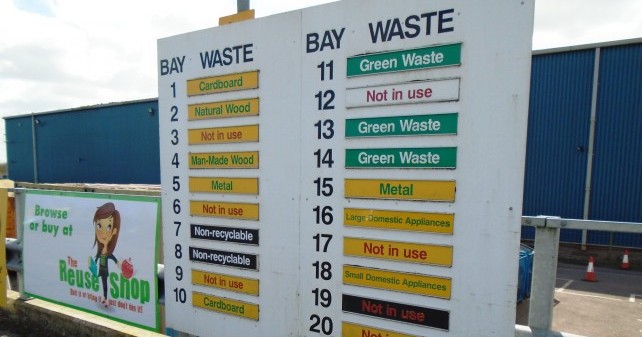 Taunton Recycling Centre is going cash-free in a trial next month that will see it taking all payments only on 'plastic'.
From Tuesday 3 May, payments will be accepted on Visa and MasterCard credit and debit cards, Visa Electron, Diner's Club as well as contactless cards.
The trial at Taunton Recycling Centre, Somerset's biggest and busiest recycling site, follows a very successful test of cashless payments at Chard Recycling Centre in February.
Security and safety of staff has been cited as the reasons for the new trial, as Taunton takes a wide variety of charged-for materials, with the levels of such items rising year-on-year.
These include materials brought in by residents but classified as non-household, such as gas bottles, soil, hardcore and tyres, as well as domestically-generated vehicle parts.
Payments for domestic asbestos and plasterboard will continue to be taken online in advance at the Somerset Waste Partnership website.
Taunton is one of 10 sites that take paid-for residents' vehicle parts for recycling or disposal, and, in a separate scheme, among 10 sites that accept paid-for businesses' commercial waste.
Businesses are charged to recycle or dispose of two dozen commercial waste materials, from timber and fridges to fluorescent tubes.
The only part of Taunton Recycling Centre that is not giving up cash is the popular Reuse Shop, which sells items that would otherwise have been recycled or sent to landfill.
Taunton Recycling Centre was chosen as the trial site as the current level of transactions is manageable while the staff are experienced in handling payments on plastic.
After the trial in May, the results will be considered by the councillors on Somerset Waste Board before any decision is taken about whether to extend it to other sites in future.
A Somerset Waste Partnership spokesman said:
"After the success at Chard, the trial at Taunton will show if payments by plastic only will work on a far larger scale."
More information about Taunton Recycling Centre, including opening hours and materials taken, can be found by visiting http://www.somersetwaste.gov.uk/sites/list/taunton/