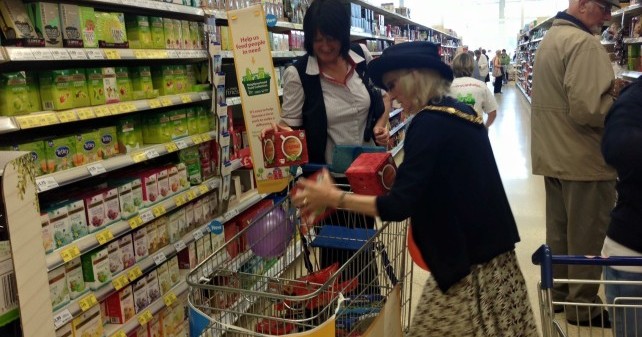 Latest figures show there was a small drop in the number of people helped by Taunton Foodbank in the last year compared to the year before.
3,312 three day emergency food supplies were provided to local people by Taunton foodbank in the 2015/16 financial year, compared to 3,345 in 2014/15.
Of this number, 1,320 went to children.
At the Taunton Foodbank, the top three reasons for foodbank referral were:
Changes or delays to benefits 32%
Feeding the family during school holidays 28%
Low income 19%
Over the last year, local people have donated over 32 tonnes of food to Taunton Foodbank, and over 60 volunteered.
Local schools, businesses and faith groups have provided vital support to the foodbank, enabling them to give three days' nutritionally balanced food and support to people in crisis.
As well as providing emergency food, Taunton foodbank provides essentials like washing powder, nappies and hygiene products to families who are struggling, as well as signposting them to other services in the local area.
Sue Weightman, Taunton Foodbank Manager, said:
"We welcome this small drop in need for the foodbank at the moment, and really hope this trend continues.
But 3,312 is still 3,312 too many, and more needs to be done so we can continue to see the need for the foodbank decline."
The running costs for the foodbank are around £20,000.00 a year, all of which is raised locally to enable them to continue their work.
Costs include warehouse space to sort and store donated food, a part-time Foodbank Manager, the purchase of additional food as required due to stock shortages and other overheads like utilities and insurances.
The foodbank welcomes any new offers of help with funding.
Local businesses, organisations and individuals interested in supporting the foodbank's work can find out more by visiting http://taunton.foodbank.org.uk/donate