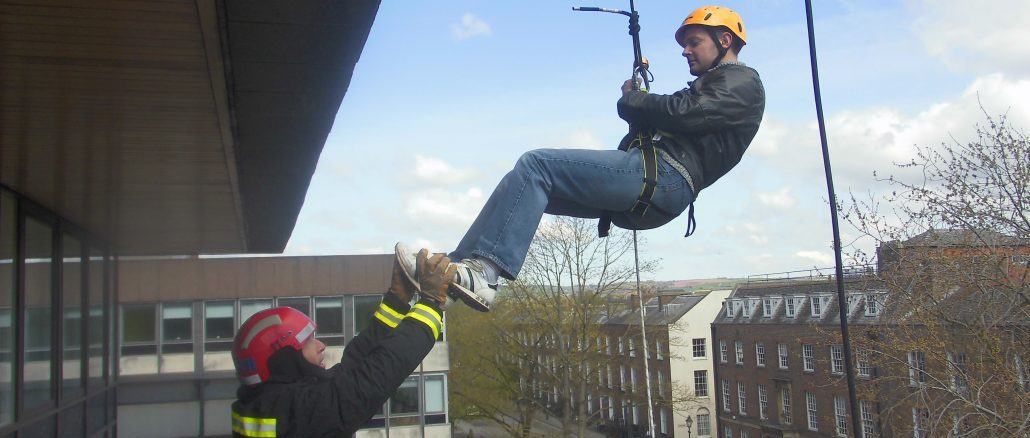 Around 80 brave individuals will be taking part in a charity abseil off one of Taunton's tallest buildings this Friday and Saturday.
Somerset County Council has joined forces with the Devon and Somerset Fire & Rescue Service to organise a charity abseil down County Hall's C-Block.
This is the second time this hugely successful event has taken place, which has seen over £13,000 raised for charity so far.
All money raised will be divided equally between Somerset County Council's Chairman's Charities, the National Autistic Society and Somerset Trust for Arts & Recreation (a charity which provides those little extras for disadvantaged Somerset children) and the Devon and Somerset Fire & Rescue Service Firefighter charity.
Cllr Christine Lawrence, Somerset County Council's Chairman said:
"We are so pleased to be working with the Fire and Rescue Service again on this fantastic event.
This is a great opportunity to raise vital funds for some well-known charities, ultimately benefitting many people.
Please come along and help support our volunteers."
People are invited to come along to the event to show their support for those who are taking part, grab a cup of tea and take a look at the number of displays while they cheer the abseilers down the building.
Devon and Somerset Fire & Rescue Service will be showcasing some of their specialist equipment, which they have to help communities when they need them.
Visitors will be able to get advice from the Fire Service on how to keep safe in their own home and on the roads.
There will be fast bikes, cars and the community bus, Pumper One, there for all to see along with advice from The Somerset Road Safety Partnership.
As an added fundraising incentive the Devon and Somerset Fire & Rescue Service is giving away a special VIP experience day to the top 20 fundraisers.