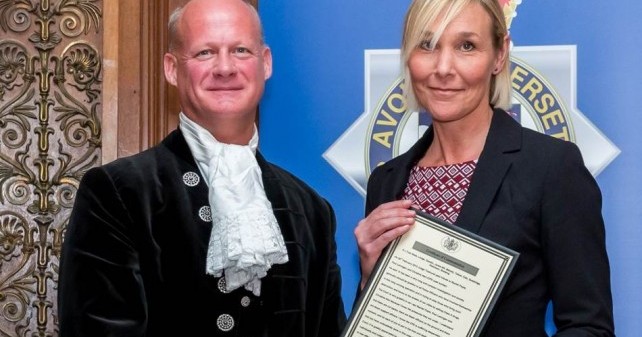 Acts of bravery, lifesaving and determined detective work by members of the public and police officers across Somerset and North Somerset were recently recognised at an Avon and Somerset Police award ceremony.
Amongst those commended were two detectives based in Bridgwater who received a Crown Court Commendation for their work on an operation to tackle Class A drug dealing in Bridgwater and Taunton, which led to 27 people being convicted in Taunton Crown Court in February last year for offences including conspiracy to supply controlled drugs, supplying controlled drugs and money laundering.
The operation identified offenders at all levels including street dealers, drug runners and the overall organisers involved is the supply of drugs and banking of the assets raised.
Arrests and search warrants recovered substantial quantities of drugs together with thousands of pounds of laundered cash.
DC Rachel Pople and DS Paul Lanigan were commended by HHJ Ticehurst, who said:
"It has been a very long and complex investigation and society generally should be grateful to all police officers who have involved themselves in this long-running operation and in trying to stop those who bring such destruction and havoc to the streets of our cities by selling Class A drugs.
The court is very grateful to Rachel Pople and Paul Lanigan … for your hard work and perseverance."