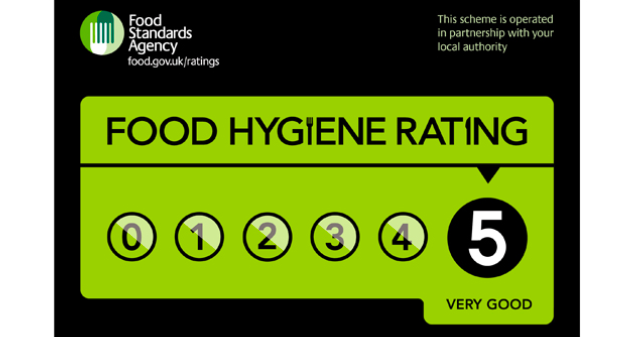 Nine out of ten businesses serving food to the public that were inspected in Taunton Deane in the past year achieved top hygiene ratings.
Officers in the environmental health team at Taunton Deane Borough Council regularly visit businesses that serve open food to the public, schools, hospitals, pubs, cafes, restaurants and your favourite take away.
Food business are rated according to the national Food Hygiene Rating Scheme.
There are six different food hygiene ratings between 0 – 5, a top rating of 5 represents a very good level of compliance with legal requirements and all food businesses, irrespective of size, should be able to achieve this.
All customers should look out for official stickers displayed at food businesses.
Some 90% of food businesses inspected in Taunton Deane over the last year have scored a 4 or a 5.
Food hygiene ratings for businesses located in the Taunton Deane area are published on-line at food.gov.uk/ratings and businesses are encouraged to display certificates and stickers showing their ratings so that customers can make up their minds whether to go in or not.
Cllr Patrick Berry who holds the environmental services brief for Taunton Deane Borough Council, said:
"I know consumers are very interested in the food score ratings – and rightly so as it gives people a clear steer on the cleanliness and safety of a place where they may shop for food or consider as a venue for a meal out.
It is very gratifying to see that the majority of premises are achieving ratings of four or five, right at the top of the scale."