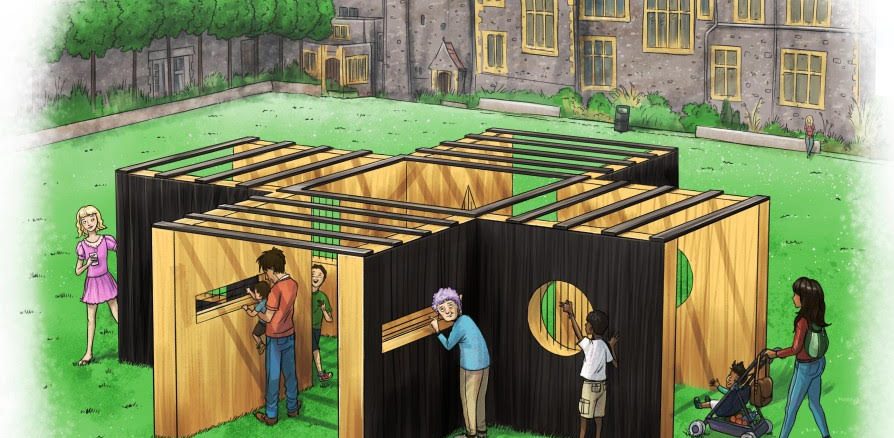 Good vibrations will be resonating at Taunton's Castle Green this summer thanks to a unique arts installation.
Artist Michael Fairfax, based in Wiveliscombe, is creating an 'extraordinary sound pavilion' that people will be able to play to create their own sounds of the summer.
The wooden pavilion will feature musical strings stretched taut across parts of the structure that, when plucked, will create musical sounds. And, unlike conventional instruments, the deaf will be able to "hear" the sounds by catching the vibrations.
The pavilion is believed to be the only one of its kind, hence the claim to be unique, and is being funded by Arts Council England following a successful bid supported by Taunton Deane Borough Council.
The project also has the support of Milverton Saw Mills, providing timber and workshop space for Michael, as well as Arts Taunton.
Sculptor Michael Fairfax has been exploring how to create sound in his sculptural pieces, drawing on his electronic music studies.
"This rediscovery of sound has fed on the passion for site specific work that my public sculpture has explored and is now taking me to a thrilling development of my artistic practice and new artform" he said.
His recent work has included a project with Somerset Wildlife Trust and Somerset Art Works to create a sound harp in the Priorswood area of Taunton.
"A sound work of scale in the very heart of Taunton will bring people from across very different communities together and will undoubtedly be of particular attraction to children and young people" he added.
The pavilion can be played by people with or without musical ability.
"Anybody will be able to delight from the sound element of pavilion that will come alive with more interaction – once one person begins more and more will be drawn to the creative element of the structure.
In my experience once people engage with my sound works they are empowered and enthralled by their own ability to create sound," said Michael.
Cllr Mark Edwards, Deputy Leader of the Council and events' champion, said:
"I am really excited by the sound pavilion – I am sure it will prove a fantastic attraction and experience in a wonderful and historic space in the heart of Taunton.
I think it will be hugely popular and that word will soon spread with people of all ages wanting to make music in such an original and creative way. I am also pleased that we are working with a local artist with an international reputation."