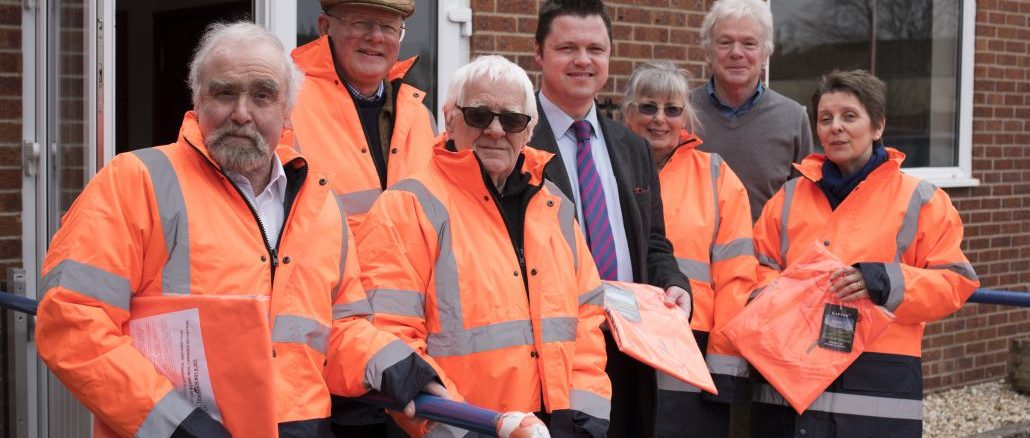 Volunteer flood wardens on the Somerset Levels now have bright orange protective clothing to wear during emergencies, thanks to a grant of £1,500 from the Enterprise Foundation.
The new gear is tough, warm, and sure to make wardens highly visible as they help their communities in Moorland and Fordgate, near Bridgwater.
"It's lovely stuff" said volunteer flood warden Kate Symonds.
"It will keep us nice and warm in the winter and we will definitely stand out in a snow storm!
We're very pleased to have it, and by far the most useful thing is that it will mark us out as flood wardens – as local people who know what to do before a flood."
Following the floods of 2014, and supported by Somerset Rivers Authority and Environment Agency workers, local people spent months drawing up flood resilience plans for every household in Moorland and Fordgate.
Part of the wardens' role is to use detailed local knowledge and practical training to put those plans into action, to prepare for any flooding and minimise its impact.
The wardens' new clothing was donated after the charity SAFE South West teamed up through the Community Resilience in Somerset Project with Enterprise Rent-a-Car, whose founder Jack Taylor set up the Enterprise Foundation as a way for the company's employees and customers to give back to the communities where they live and work.
Steve Smith, co-ordinator of SAFE South West, said:
"We work closely with local communities and Devon & Somerset Fire & Rescue Service on issues of community safety.
We knew just how important hi-vis protective clothing could be to the volunteer flood wardens of the Levels and Moors and we were delighted when – through Richard Cooper – the Enterprise Foundation gave us a grant of £1,500."
Richard Cooper, of Enterprise Rent-a-Car, said:
"Devon & Somerset Fire & Rescue Service are a long standing business partner of Enterprise Rent-A-Car so we were very keen and privileged to be able to support one of their chosen charities SAFE South West.
It was fantastic to meet the flood wardens and present them with some of the much-needed equipment that will keep them safe in performing the valuable job they volunteer to do."
Kate Symonds added:
"And never forget, it isn't just floods: it could be snow and ice, it could be a burst water main, it could be anything.
That's the whole point. We're called flood wardens, but it could be any emergency."