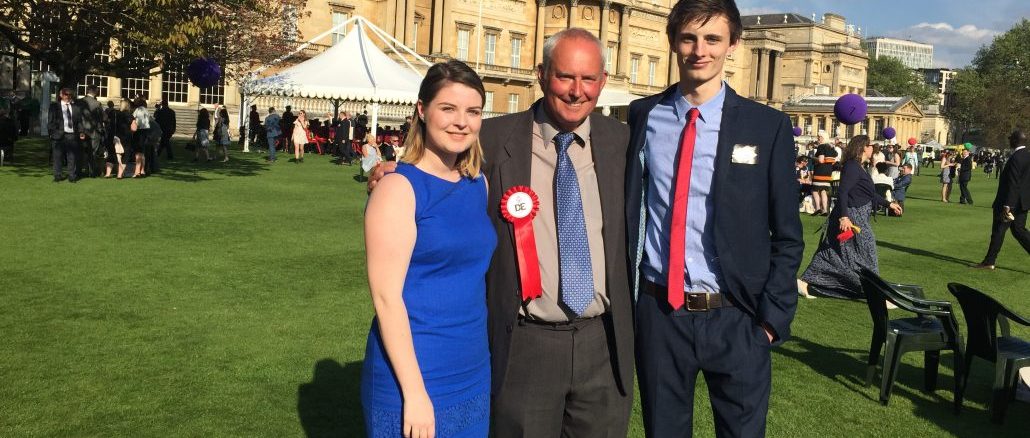 Four adventurous Somerset youngsters visited Buckingham Palace this month to mark the 60th Anniversary of the Duke of Edinburgh (DofE) Awards.
The young people from Taunton School, Bridgwater College and Frome College were invited to take part in a special Gold Award Presentation in the grounds of the palace on 16 May, where they received their Gold Award from HRH the Duke of Edinburgh. Somerset County Council was also honoured at the event with a commemorative plaque to acknowledge the authority's involvement with DofE during the Diamond year.
The County Council has a DofE operating licence and supports schools, colleges and community groups to offer DofE programmes to 14-24 year olds.
Last year was a record-breaker for the DofE in Somerset, with 2,438 young people starting a programme (up 16%) and 1,002 completing an award (up 5.9%), with many others still ongoing.
Councillor Frances Nicholson, Cabinet member for Children and Families, said:
"The DofE is unique in what it can offer young people from all walks of life and it's an honour to be part of these Diamond year celebrations."
It helps develop the kind of skills and attitudes that will be useful to young people in all aspects of their lives, and research shows that employers and universities look out for it in CVs and job applications."
We have set ourselves challenging targets for increased participation for young people of disadvantaged backgrounds and we will be working hard behind the scenes to achieve these."
There are currently about 60 active DofE groups across the county, including a small number of DofE groups running in Special and Partnership (PRU) schools, with hopes to build on these in the coming years.
Jeff Brown, Somerset County Council's Service Manager for Youth Development said:
"We are funded through the County Council's youth service budget, a contribution from the schools and charges to groups and young people.
We need to recruit more volunteers and generate income to help sustain and grow DofE in Somerset, and we hope to use DofE's Diamond Anniversary to raise awareness and funds. That's why all offers of support from local businesses and the general public will be gratefully received!"
To celebrate the Diamond anniversary Somerset County Council have also founded a county DofE committee in order to support further developments and enable more young people to complete a DofE programme.
In the autumn of 2016 a bursary fund will be launched which will help those in financial hardship to complete a DofE programme.
The council's DofE team will be attending this year's Bath and West Show (1 – 4 June) and would like to encourage all young people along with their families and carers to pay them a visit to find out how a Duke of Edinburgh programme could benefit them.
More information about Somerset DofE can be found on Twitter @SomersetDofE and Facebook https://www.facebook.com/Duke-of-Edinburghs-Award-in-Somerset or by visiting the national DofE website: http://www.dofe.org/.