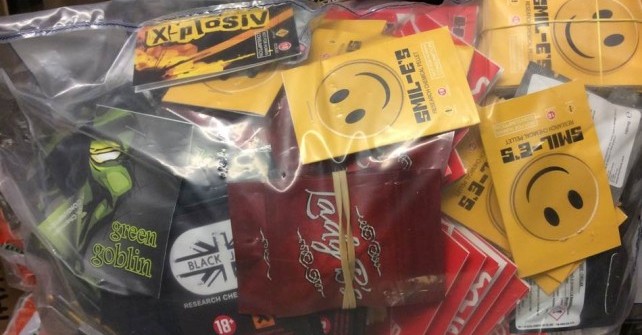 The Psychoactive Substances Act 2016 comes into force across the country today (Thursday), bringing an end to so-called legal highs.
Under the legislation it is an offence to produce, supply, offer to supply, possess with intent to supply, possess in a prison, import or export psychoactive substances.
A psychoactive substance is defined in the new law as a drug which is capable of affecting a person's mental functioning or emotional state, but is not currently controlled as a class A, B or C drug.
Psychoactive substances are any substances intended for human consumption excluding legitimate ones, such as food, alcohol, tobacco, nicotine, caffeine and medical products.
The blanket ban on psychoactive substances is designed to get around the issue of suppliers continually offering new drugs which vary slightly in their chemical makeup to replace those already banned under the Misuse of Drugs Act, which is what has been happening over recent years.
Anyone caught breaking the law could be given a maximum prison sentence of up to seven years.
Paul Bunt, Avon and Somerset Police's Drug Strategy Manager, said:
"Psychoactive Substances are extremely dangerous and since their emergence have been linked with numerous incidents where people have been admitted to hospital, suffered long-term harm and even died.
Anyone taking a psychoactive substance is playing Russian roulette with their health as many of these products have never been tested on humans.
We are committed to reducing the harm caused by all drugs and in recent years we have been working hard to tackle the issue of so-called legal highs, using anti-social behaviour legislation to close down shops selling them.
The Psychoactive Substances Act now makes it much simpler to shut down these so-called headshops while it also gives police the power to shut down websites trading in these drugs.
The Act, which we will enforce in a practical and proportionate way, also allows officers to proactively stop and search people when they have reasonable grounds to suspect that a person has committed, or is likely to commit, an offence linked to the Act.
However, legislation is only one way in which we confront psychoactive substances and other drugs and we will continue to work with our partners in local authorities and trading standards on prevention and education measures."
For confidential advice and support on drugs visit www.talktofrank.com
If you have information about any suspected criminal or suspicious activity in your area, call Avon and Somerset Police on 101 or report it online by visiting www.avonandsomerset.police.uk.
If you don't want to speak to police, call Crimestoppers on 0800 555 111, it is completely anonymous and you could earn yourself a cash reward.