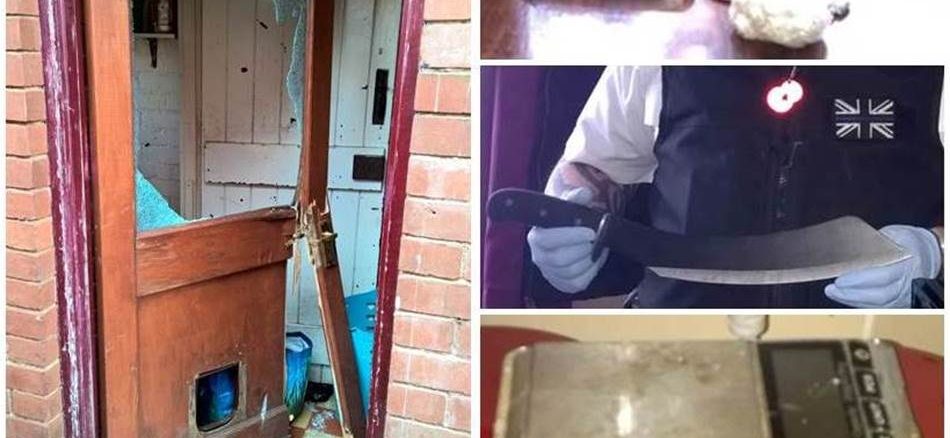 Avon and Somerset Police have arrested eight people on suspicion of drug dealing offences and seized class A drugs, weapons and cash in Taunton.
Three search warrants were carried out under the Misuse of Drugs Act just after 09:00 this morning (Thursday 2 June) at three residential addresses in the town.
Two men aged 20 and 18, and a 19 year-old woman were arrested on suspicion of possession with intent to supply class A drugs from a town centre property.
A large ball of what is suspected to be crack, two large packages containing over 100 wraps of crack, cannabis and money were also discovered and seized.
Four people were also arrested on suspicion of possession with intent to supply class B drugs at a second property.
A 17 year-old male, two 18 year-old men and a woman aged 19, were arrested when officers found 49 "deal bags" containing matter suspected to be cannabis.
£700 in cash, jars and other pouches containing suspected cannabis, two replica guns, an air-rifle, two metal baseball bats and a number of bladed weapons were also found and seized at the address.
Another woman was subsequently arrested this afternoon on suspicion of being concerned in the supply of drugs in relation to the second property.
A third property was also searched but no arrests were made.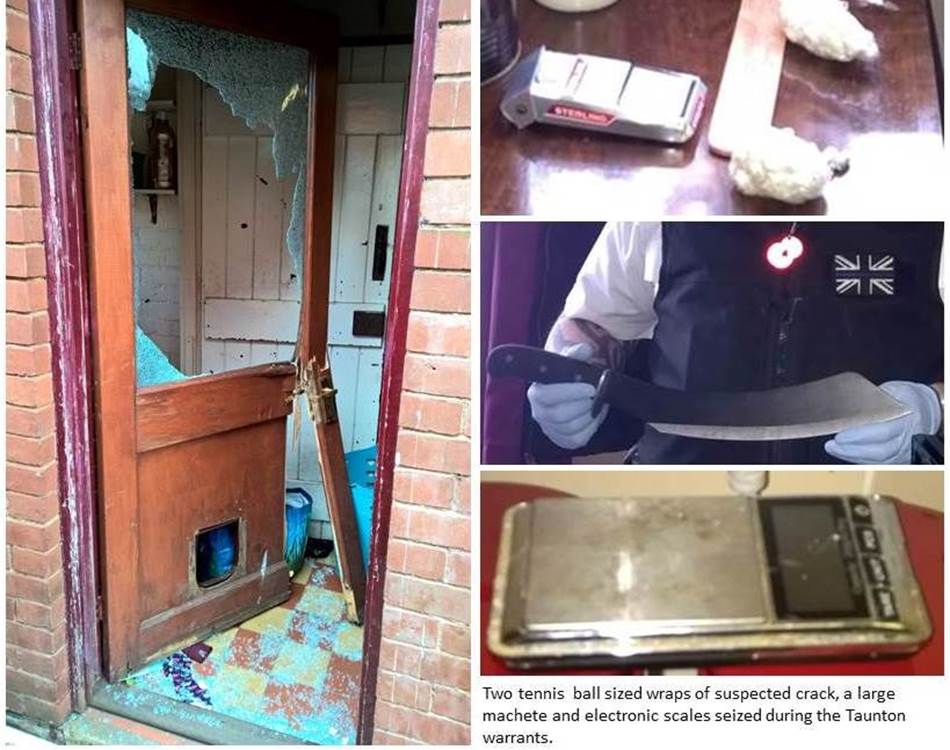 The warrants are part of the latest activity in a Somerset-wide crack down on drugs.
They were conducted by the local Neighbourhood and Patrol Teams from Taunton supported by colleagues from Bridgwater and Burnham and dog-handler PC Mandy Gornicki.
Housing officers from Knightstone and Magna Housing were also present and have been working closely with police to deal with suspected drug dealing and anti-social behaviour by tenants.
Chief Inspector Lisa Simpson, Area Commander for Somerset West, said:
"This activity is just part of a range of proactive operations we are undertaking across the area to deal with drug dealing.
The communities of Somerset have been very clear that they do not want drug dealing in their neighbourhoods and have been proactively supplying us with information. Please keep coming forward with information, either directly to us or via Crimestoppers. It is invaluable.
We are not a soft-touch in Somerset, we will not tolerate drug-dealing or related anti-social behaviour, let me be very clear about that. We will continue to work with our partners in local authority and housing to deal with this kind of crime, and other partners to support those with addiction.
We want to know about anyone suspected to be housing drug dealers or allowing the supply of drugs from their premises. We also want to hear from anyone who is worried about friends, neighbours or relatives they feel might be vulnerable to drug dealers due to dependency or debt."
If you have information about any suspected criminal or suspicious activity in your area, call police on 101 or report it online by visiting www.avonandsomerset.police.uk.
If you don't want to speak to police call Crimestoppers on 0800 555 111, it is completely anonymous and you could earn yourself a cash reward.