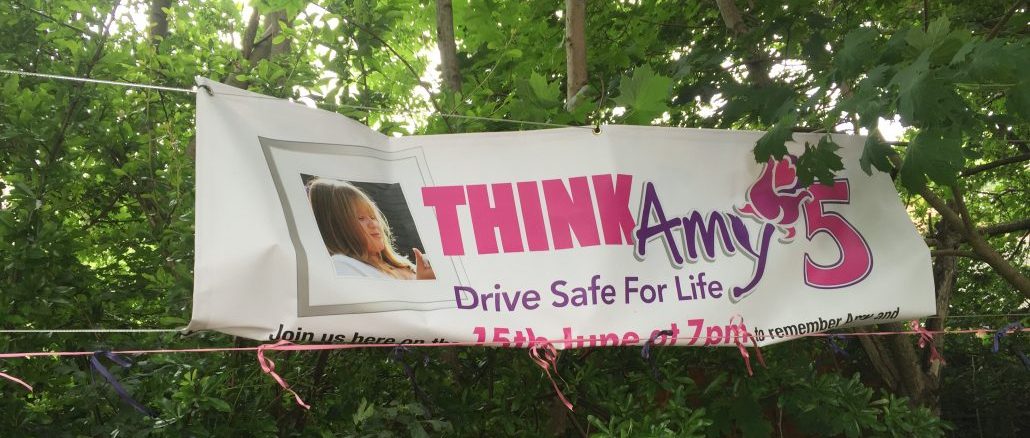 A one minute silence will take place this evening when Taunton remembers Amy Hofmeister, on the fifth anniversary of her death.
Amy was killed by two car drivers racing each other at motorway speeds along Blackbrook Way in Taunton on 15 June 2011.
Amy was cycling along a cycle path with an adult on a clear sunny evening when the driver of the lead car lost control on a bend. The car became airborne and struck Amy who died instantly. She was just 13 years old.
Amy's mum paid tribute to her daughter earlier today:
"Amy was one of the funniest, quirkiest, most sunny bundles of joy that I or anyone who knew her is ever likely to meet.
She lit up a room with her laugh & smile, she loved unconditionally & showed you that love in so many ways.
Amy came into a room with a ta dah! She made her presence known & boy could she talk!!
5 years ago today my heart broke.
5 years ago today my Amy was killed.
5 years ago today my world fell apart…
My life has never been the same since."
Jane Hofmeister set up the Think Amy charity after her daughter died aiming to advance road safety for the public by raising awareness of the consequences of driving dangerously and encouraging drivers (especially new and young drivers) to drive safely by thinking about their responsibilities as drivers: to themselves, their passengers and other road users.
Around 1,800 people are killed on our roads each year in the UK and the charity asks for as many people as possible to gather at Blackbrook Way at 19:00 tonight and remember Amy and all victims of road death.
Amy attended Bishop Fox's School and recently year 7 students spelt out Think Amy on their school field for Amy's 5th Anniversary.
The event will also acknowledge the work of members of the police, fire and ambulance services who will be in attendance and who do so much to help those involved in road traffic collisions.
GoCreate Taunton have knitted flowers for the anniversary.
Amy was killed at approximately 19:30 which is when the one minute's silence is expected to take place.
Think Amy are asking people to light a candle as an act of remembrance of all victims of road death and to share a photo of it with the hashtag #ThinkAmy5 on Facebook and Twitter.