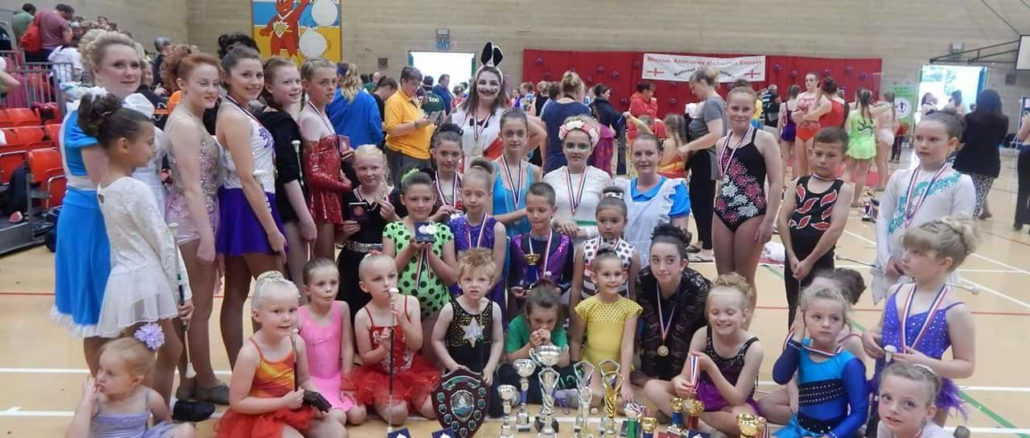 Back in 1991 Christine Walls, Tara Evangeli & Kim Ridge moved back to Taunton from Orpington, Kent, and started up the Taunton Twirlstars – Taunton's only Majorette Troupe. Over the years there have been many people come and go but the three original women that started the Troupe are still there at the helm, guiding the boys and girls that Twirl into european stardom.
Relaunching under the name of New Direction in 2000 they now have just over 30 members, with ages ranging from 3 to 25, and meet weekly for their practice and rehearsals in Halcon. Christine, Kim & Tara are still at the helm of the Troupe after all these years but now with Kim & Tara's daughters, Kimberly Pollard & Hayley Stanford, working alongside them and last night the team celebrated their 25 years of Twirling those batons and representing Taunton at a party in the County Town.
Competing in 5 competitions a year, all held in Weston-Super-Mare, New Direction twirled away with a fantastic haul: 14 x Basic Awards, 7 x Fancy Strut Awards, 6 x Pom Strut Awards, 1 x top 6 in Solo, 2 x 1st in Pom Team, 3 x 2nd places in Teams, 3rd place in Accessories Section and 1st in Senior Accessories!  What a feat!
Excitingly, they now find themselves in the European Championships held at the K2 in Crawley, Surrey on the 8-9th of October where they will be one of the 5 English Troupes competing against 12 other European Countries. To get to the Championships will cost £330 each for the four competitors. However, because Majoretting isn't officially classified as a sport, they aren't able to get funding from the same places that other sporting organisations would be able to take advantage of, meaning that the four competitors from New Direction are having to self fund their trip there to represent Taunton.
Massive fundraising is now underway to try to raise the funds to get them to the European Championships – Paula Devine has decided to complete the Tough Mudder Half Challenge to help raise funds for the Troupe to pay towards travel expenses, accommodation and new costumes specially made for the Championships.
"Anyone that knows me thinks I'm bonkers and I think that my deciding to do the Tough Mudder Half Challenge sort of actually confirms it, but it will be worth it to help to raise much needed funds to get the team to the European Championships and to represent Taunton. I'm so happy to be helping New Direction to get to the European Championships and I'd really be very grateful for any donations to support my attempt at the Tough Mudder Half Challenge"
Anyone wanting to donate to Paula's efforts to help raise funds to get the Taunton based Majorette Team to the European Championships can make a donation by clicking on the following link:
Paula Devine's Tough Mudder Half Challenge Donation Page for New Direction – Get them to the European Championships!
For those that wish to find out more about these Taunton majorettes, find their Facebook page at http://fb.com/NewDirectionTaunton
Below you can see how it all began in 1991 with the Taunton Twirlstars and also at the Celebratory party last night the original organisers still going strong with newer members as New Direction