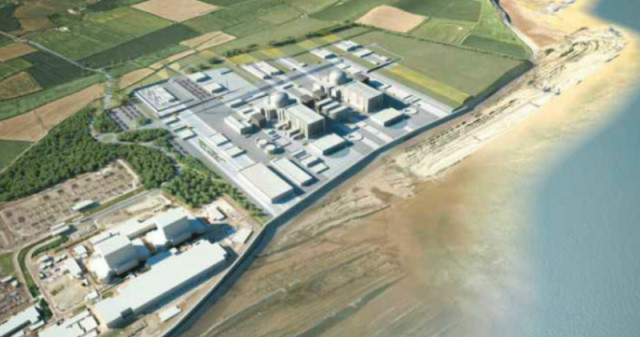 Confirmation that EDF Energy's Board has made its Financial Investment Decision for the construction and operation of the Hinkley Point C nuclear power station in Somerset is being welcomed by West Somerset Council.
Having granted planning permission for the site to be prepared in advance of the main construction in 2012, the council has been busy over the last four years ensuring that opportunities arising from the project benefit local people, businesses and communities.
Dozens of community-led legacy projects – large and small – are already benefiting from funding released through the Hinkley Point C agreements, including the recently opened Boat Museum and Visitor Centre in Watchet.
Leader of the Council, Cllr Anthony Trollope-Bellew said:
"West Somerset Council as the host authority of the project very much welcomes the news regarding EDF Energy's Board's Final Investment Decision.
The opportunity for our communities, our people and our businesses is enormous and we look forward to the remobilisation of the HPC workforce during 2016.
The Council has been working alongside a host of partners, including EDF Energy, to ensure that the area is ready to host the project and that our businesses and communities are well placed to take advantage of the huge opportunity.
We are already seeing local companies winning contracts; local people benefiting from training and employment opportunities, gaining qualifications – all adding real value to the local economy.
We have already funded some great projects in key communities, including Stogursey, Williton and Watchet, using financial contributions secured through the planning process that will serve our communities as they host the project during construction and leave a lasting legacy for the area."
Cllr Chris Morgan, the Council's Lead Member for Energy Infrastructure and Ward Member for Quantock Vale including Stogursey that will host the project, said:
"I am pleased that at last EDF Energy's Board has the decision that will take the Hinkley C project forward.
It will open up opportunities for employment to local people, as well as training and education prospects well into the future.
We do, however, have to give consideration to those people living closest to the construction site who will be facing many years of extreme disruption, and doing as much as possible to mitigate the impacts of the development."
Somerset County Council has heralded EDF Energy's decision to give its go ahead to the Hinkley Point C project.
The Council has been working with The Heart of the South West Local Enterprise Partnership and other partners to attract investment projects that would maximise the legacy of Hinkley Point C.
This includes the new Somerset Energy Innovation Centre near Bridgwater, which was opened by the Council earlier this year to support local businesses and inward investors seeking to collaborate and exploit opportunities in the growing low carbon and nuclear energy sectors.
"Today's decision by EDF is a very important one" said Councillor John Osman, Leader of Somerset County Council.
"This is a once in a lifetime opportunity for our businesses, young people and county as a whole."
Councillor David Hall, Deputy Leader of the Council and Cabinet Member for Business and Inward Investment, said.
"This announcement has been a long time coming, but considerable work has been happening behind the scenes.
I look forward to the Government swiftly making its decision so that we can progress a project that would give an enormous boost to the level of confidence in our local, regional and national economy.
We will continue our positive and constructive relationship with EDF Energy and partners. I am also committed to ensuring that the impacts of this development are addressed and that businesses and communities can benefit from the investment in infrastructure, creation of jobs and skills and supply chain opportunities."
During its planned 60 year operating life, Hinkley Point C would bring around £40 million into the local economy every year," he added. "And kick start the national nuclear renaissance and will be the catalyst for economic growth in Somerset and the wider South West region."
Steve Hindley, Chair of the Heart of the South West LEP (HotSW LEP), said:
"Hinkley Point C would transform our economy, creating 25,000 new jobs and generating £18bn investment. It's the cornerstone of our Nuclear South West partnership in which we're promoting the South West as the UK's leading area for the nuclear sector with international profile.
We are geared up to provide local packages of investment that will make sure we really maximise these opportunities for people and businesses in our area.
The new Somerset Energy and Innovation Centre, the Hinkley Point Training Agency and the Hinkley Supply Chain for example – all part-funded through the HotSW LEP's deals with Government – are key components of the thriving Nuclear South West cluster.
This development would create a major step-change on our journey towards transformational growth, when we will really see the true value of the Heart of the South West in its role within the UK economy."
Leader of Taunton Deane Borough Council John Williams has welcomed the news.
He said he hoped the Government would progress its decision on the project, adding: 
"I can understand the new Government's need to review and hope a conclusion is reached as soon as possible."
Cllr Williams said FID is a major step forward and paves the way towards significant opportunities which are vitally important to the county and the regional economy.
"The £18bn development – the largest construction project in Europe – is expected to lead to a total investment of £50bn for the South West long term and I am sure that Taunton Deane will benefit hugely as a result," he said. 
"At this stage, none of us can really comprehend the sheer magnitude of the project."
We have ambitious and achievable plans for growth and development in Taunton Deane and an investment of this value in the South West is a highly significant benefit that cannot be underestimated. 
The county town provides the rail gateway to the Hinkley Point C site and I've no doubt that EDF and its contractors will see the value in our excellent facilities and transport links when looking at where to locate. 
Taunton in particular benefits from a wide range of homes, excellent retail offer, world class education facilities, excellent leisure and recreation and our plans at Taunton Station will create a first class transport interchange providing fast access to the site from London, Birmingham, Bristol and beyond. 
We are also strategically placed with motorway connections to two regional airports – Bristol and Exeter. When the Reading-Heathrow link is complete it will be easy access from Taunton to Heathrow by rail."
Taunton Deane-based businesses are already making the most of the opportunities offered through the supply chain for Hinkley Point C. 
The Council has committed funds to the Somerset Chamber of Commerce and has been working alongside a host of partners and EDF Energy to ensure local people benefit from training and employment opportunities and local businesses can bid for contracts, adding real value to the local economy.
"The opportunities offered to our local businesses in Taunton Deane are considerable – as a Council we continue to support the Supply Chain initiative and would strongly encourage more businesses to get involved. You can register your interest at www.hinkleysupplychain.co.uk Please ensure you register – do not miss out," said Cllr Williams.
"We have already seen Somerset businesses named as preferred bidders for Hinkley Point C with combined contract values of more than £225 million. This indicates just how significant the development is to our economy."
The new nuclear power station is expected to create 25,000 job opportunities during construction and Cllr Williams said that it will bring its challenges but could only be of benefit to the whole local economy.
"We are ready and willing to make the most of the opportunities offered by this development which will be the biggest construction project in Europe. The project is taking place on our doorstep and has the potential to provide a huge boost to our community now and well into the future."
Somerset County Council has today urged the Government to make a quick and positive decision on Hinkley Point C.
Councillor David Hall, Deputy Leader and Cabinet Member for Business and Inward Investment, has written to Prime Minister Theresa May offering to work with her team on its review of the nuclear power station project.
"This is a massive scheme that would bring the largest construction project in Europe to Somerset, so I can understand the new Prime Minister and her team wanting to make sure they have had every opportunity to give it their fullest scrutiny" said Cllr Hall.
"I want to make it clear to the Prime Minister that the Hinkley project is very important to this County and we are here to help the Government come to its decision."
The letter comes after the Government's announcement last night that it would "consider the component parts" of the project and make a decision in early autumn. This followed the board of EDF Energy voting to make its long-awaited Final Investment Decision.
In the letter Cllr Hall writes:
'Hinkley Point C is of immense importance and would provide an enormous boost to the local, regional and indeed national economy. The County Council is therefore keen to understand the process of further review and work with your Government in any way possible to help it make a positive decision at the earliest possible opportunity'.
"We mustn't lose sight of the fact that EDF Energy's Final Investment Decision is major step forward" added Cllr Hall today.
"The Somerset economy is extremely healthy, however the Hinkley Point C development is a one in a generation opportunity that would give an additional and enormous boost to confidence in our local, regional and national economy."