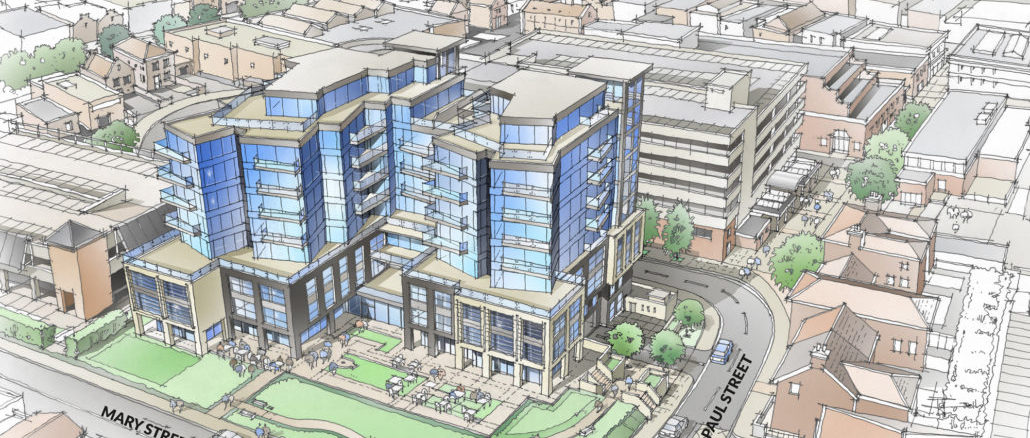 Proposals to redevelop Taunton's Quantock House into a care home have been unveiled in a public exhibition today.
Plans include a 'new care home, extra care apartments with shared facilities, together with some retail units' which are said to bring 'many benefits to Taunton'.
These include 'new job and training opportunities' and helping to 'boost local businesses, retail and tourism.'

The 1960s six-floor office block on the corner of Paul Street and Mary Street, which housed various Government departments, has been sold to Quantum Group, a Bournemouth based investment and development property specialist within the retirement and nursing care sectors.
Kate Greatrix, Head of Community Engagement at Quantum said:
"Following our purchase of Quantock House last year, we have been working closely with members of Taunton Deane Borough Council, local organisations, associations and representatives from the community on our vision and design proposals for this important site in the heart of the Town.
During the past 6 months our engagement with the community has given us clear insights into this unique county town, its residents, businesses, associations and its strong connections to arts, crafts, sport and recreation.
We are totally committed to regenerating this unused site into a wonderful place that will revitalise the surrounding area, and create a new community for people aged over 55.
Our Continuous Care Retirement Community will include a new care home, extra care apartments with shared facilities, together with some retail units which will bring many benefits to Taunton, including new job and training opportunities and will help to boost local businesses, retail and tourism.
We have worked hard to make sure as many people as possible are aware of our first public exhibition, by distributing fliers to residents living nearby, local associations, businesses and shops.
We have also advertised the event via posters, the local media and through the Tourist Information local events website.
Over the next 3 days we are very much looking forward to meeting and hearing the views of local people and businesses – we really do value all the feedback we receive.
As a Company we actively engage with the community and will continue to keep everybody informed of our progress throughout the planning stages and beyond."
Members of the public are invited to view the plans for the proposed redevelopment and ask the team questions and give feedback.
The public exhibition takes place this week at Creative Innovation Centre CIC, Memorial Hall on Paul Street in Taunton, starting today from 16:00 to 18:00, Friday from 10:00 to 18:00 and Saturday from 10:00 to 14:00.