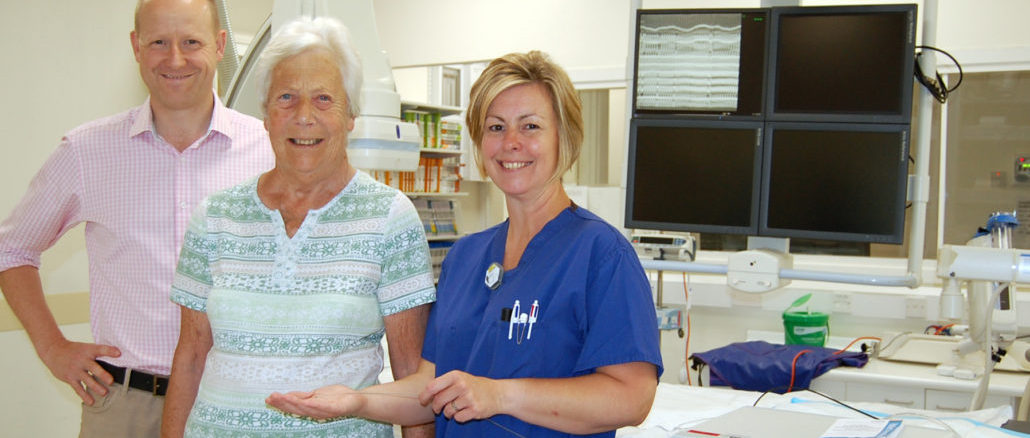 Patients in Somerset with severely blocked arteries that cannot be treated with routine surgery are now getting specialist treatment closer to their home.
A total of 15 patients have already benefited from a complex surgical procedure, called Rotablation, which is now available at Musgrove Park Hospital.
Most cardiac patients who have blocked arteries are able to have a routine percutaneous coronary intervention, which means using a needle to go into the body and place a balloon into the narrowed artery to squeeze it open before placing a stent across the narrowing to keep it wide open.
But one in 35 patients cannot be treated with this routine approach as they have a high build-up of calcium that prevents balloon expansion and stent placement.
Previously, these patients would have had to either travel to Bristol for the Rotablation procedure, or potentially have a coronary artery bypass operation, which has higher risks for the patient.
Rotablation uses a tiny drill to target the hard calcium rather than the soft lining of the blood vessels. It powers through the calcium and then makes it possible to complete the procedure using conventional techniques with balloons and stents.
By having the procedure at Musgrove, local patients avoid longer and more complicated bypass surgery or a second procedure. In fact, most patients are able to be discharged from hospital the day after their surgery.
Over £13,000 was generously donated by the hospital's League of Friends to buy the Rotablation machine.
Dr Mike Seddon, consultant cardiologist at Musgrove Park Hospital, who set up this service, said:
"Having Rotablation available here at Musgrove has made a huge difference, and has already significantly benefited a number of our patients."
Patricia Hockin, from Mark, near Highbridge, is one of the patients who benefited from Rotablation. Patricia needed surgery to unblock a clogged artery. She said she was very pleased with her experience of the Rotablation procedure.
"Earlier this year I was told by the cardiac surgeon that I wouldn't be able to have a heart bypass as the risks were too high and this really worried me," she said.
But he told me that doctors at my local hospital, Musgrove Park, were now able to unclog the arteries by using a new technique so they booked me an appointment.
I found the treatment went really well and I didn't even ask for sedation so I was able to watch the whole procedure being carried out. The hospital staff were excellent and kept me informed throughout.
I only needed an overnight stay and was then able to go back home. I love spending time in my garden and was able to get back out there in no time. In fact I was even able to play table tennis within three weeks of my operation."
Peter Renshaw, chairman of the League of Friends of Taunton Hospital, said:
"We are very pleased to have funded this important machine that will not only have a great benefit for patients, but also consolidate Musgrove Park Hospital as a centre of excellence."