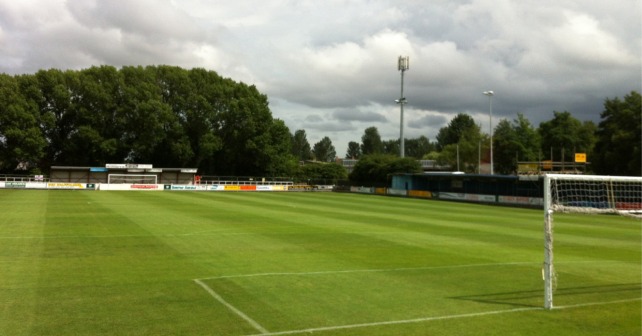 Taunton Town FC have completed works on their floodlight improvement project thanks to a £2382 grant from the Football Stadia Improvement Fund (FSIF), the largest funders of non-league football in the country.
The funding has enabled the Peacocks to add another four floodlight lamps to existing pylons, one at each corner of the ground, which will vastly improve the brightness for evening games at the Viridor Stadium and gives the club a lux value which meets the requirement for National League South football. Funded with £5.2m each year from the Premier League, the FSIF is the country's largest provider of grants towards projects that help improve the comfort and safety of lower league football grounds in both the professional and amateur game. These improvements range from new football stands and turnstiles to floodlighting and improved provision for disabled supporters.
Director and Safety Officer at the club Brian Rose who submitted the grant application commented: " Having decided that we needed to improve our flood lights, it was easy to complete the application form once all quotes had been received. The process is straight forward provided you have all details in place. Having been given the go ahead, which came very quickly after sending the application, we were able to schedule the work and our floodlights now have a suitable lux reading to take us to a much higher level of football. All in all it has been a very successful outcome, with our grateful thanks to the Football Stadia Improvement Fund and the people who provide the money for them to carry out their valuable work."
Peter McCormick OBE, Chairman of the Football Stadia Improvement Fund, said: "It is a fundamental principle that clubs should be able to progress competitively and not be hindered because of unsatisfactory facilities, so naturally I am pleased to see that this grant will go towards the floodlight improvement at Taunton Town. The work of the FSIF is only possible because of the generous support of the Premier League and this investment is a further example of funding which will help to improve supporters' experience of watching the game." The balance of the project costs were met by the club itself, with £1087 being contributed by the Supporters' Club and the remaining £1763 via the Sponsor A Goal initiative which was introduced last season specifically to assist with funding ground improvements at the Viridor Stadium. The scheme encourages individuals to pledge an amount of money for each goal Taunton Town score in all competitions during a season, and after the success of 2015-16 the fundraiser will now operate each year to help finance future projects.
Chairman Kevin Sturmey added:" Our mission is to keep building a football club and improve facilities for everyone, aiming to be ready for the levels of football we aspire to. The floodlight upgrade will make a huge difference to night matches and dismal winter Saturdays for players, officials and spectators alike."